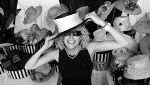 [Photo: Peter Redman,
National Post]

Milliner Sandra Beckett dons a Philip Treacy creation at her Chelsea's of Oakville hat stand at Woodbine on Queen's Plate day. In the hat trade for 12 years, Beckett says that her business has grown tremendously. "It used to be older clientele, but our store has changed. Now it's 18 years to 80."
Did you know that at Woodbine Racetrack on Queen's Plate day, there is actually a hat shop set up off the second floor for last-minute purchases? It's a fine layout of lavish brims, provided by Chelsea's of Oakville, owned by milliner Sandra Beckett, who sounds a lot like Sharon Osbourne. I bring along my one and only hat, a sorry black number with long feathers that my son says makes it look like a crow landed on my head. It's sporting years of dust. When I last wore it, to the Kentucky Derby eons ago, my head ended up in the sought-after society pages of The Louisville Herald solely because of my unusual hat.
Sandra likes it, but I have no intention of donning it again. I'm already salivating over her grandiose selection. I convince her to let me "borrow" a hat from her store. She agrees, and I find a couple of candidates that look marvellous -- until they reach the top of my head.
"You have a big head," Sandra says as she tries to pull a bowler number over my skull. Yes, a big head has always been my problem, but that's another story. "What about that one?" I ask, pointing to an extra-wide-brimmed see-through straw hat with white marabou fur trim. "Yes, you can wear that, but in black," Sandra tells me. "Black is more severe." She says black will stand the test of time. "But I only need it for an hour or so," I remind her. "I don't want severe." She insists I try a huge black and hot-pink heavy straw hat that feels as if the roof of a car has fallen on my head. It must weigh at least 20 pounds. "You look like a wizard," says my son ecstatically, not the look I'm trying for, so I reject that option. In a final attempt, Beckett plops a Philip Treacy of London straw on my head. We agree that I do nothing for the hat, with its asymmetrical crown and "profile brim," so I head off with my transparent white marabou, and the milliner's blessing. (By the way, the hat I've chosen costs a hefty $575, for those who are paying, that is.)
Sandra promises me that it's an attention getter. "It is a hat that you would see in Hello magazine. It's by the number one designer for Royal Ascot," she boasts, even showing me the stamp of approval on the label. "Who approved it?" I want to know. "The Queen," she says, with a car salesman's zeal. The Queen? I don't think so, but it's a good selling pitch, just the same. Today, her highest priced hat is $700, but in the past, she tells me, she has usually had one for around $1,400. "Best to keep things moderately priced this year," she whispers.
Her more popular section includes a number of Eric Javits hats, the renowned packable hat, ranging in price from $250 (for a small one, I'm told) to $1,000 (I guess that's for a really big one). "Good for a horse race, or a wedding abroad," she says. "When it comes out of the suitcase, it springs back into shape. Some of these are investment pieces," Beckett insists when I balk at the prices. "A milliner will only cut so many pieces, like a Chanel purse." For the faint of pocketbook, Beckett carries a Canadian packable hat by Heaslip out of Hamilton for $45.
Beckett, who says she does many of the hats for MuchMusic and did all of the hats for the movie Four Weddings and a Funeral, even has hats for men. My son buys a Tropic 504 by Kangol, the same cap, he tells me, Samuel L. Jackson wears. It costs a mere $40. "J.Lo, Madonna and Gwyneth Paltrow all wear these hats," Beckett says. And Joy Behar of The View recently dropped into her Oakville shop, "during a visit to see her daughter, who lives in the area.
"Three-quarters of the hats in the walking ring today are ours," says Beckett proudly. "The ones that aren't, don't complement the woman or the outfit." The key, she says, is in the fitting of the hat. "You don't want a red line across your forehead. And," she adds, "you have to have discretion. If we have a dozen ladies to the Four Seasons for lunch, we must make sure they look unique."
In the hat trade for 12 years, Beckett tells me that her business has grown tremendously. "It used to be older clientele, but our store has changed. Now it's 18 years to 80." Part of the reason, she says, is skin cancer. "People want to protect their skin from the sun, so the manufacturers are becoming more youth-oriented."
Now that I have my protection, I decide to hit the stands and try out my hat. "It's the best I've seen," says one of the racing officials, and I do observe nudges, and some oohs and aahs, but I quickly discover that I'm still missing a lot of the action. My son, walking a few paces behind me, is getting the real truth. "It's the most reaction I've ever seen to one piece of apparel," he gasps, obviously taken aback. I notice a friend of mine in the distance, pointing at me and laughing, and that's even before she knows it's me under the topper. "It's cute, it really is," she says as I get closer and she recognizes me, but still, she rolls her eyes.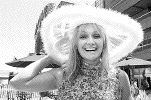 [Photo: Peter Redman,
National Post]

Sharon Dunn in the transparent white marabou that Sandra Beckett promised was an attention getter.
"Yes, yes" is a man's enthusiastic reaction as I walk by. I haven't heard that one for a long time, and I mean a long time. "A Georgian-style hat," says a good-looking man who approaches. "I want one for my girlfriend. I like that it's see-through," he says. His girlfriend walks up. "Isn't this a beautiful hat?" he says to her. "I don't want that hat," she barks. "I don't like it." I try to explain that I'm testing it, and that there are more conservative ones available, but she obviously doesn't feel like talking. She glares at me and walks off. The boyfriend trails behind her, about to be reprimanded for talking to the girl with the see-through hat. "Give me a break," I call after her, "it's not like it's a see-through bikini or something. Yeesh, it's just a hat."
"Some women are saying, 'Look at that ridiculous hat,' " my son confides, terror sweeping across his face, and that does it. Bruised and deflated, I head back to the hat store. When I tell hat clerk Agatha what happened, she nods knowingly. "Pam Anderson wore that hat. I think that's why men go crazy." When Pam wore the hat, I suggest, she probably wasn't wearing much else. "Men who come into our store love when their wives put on a hat. They think it's sexy. 90% of women who've never worn hats before come back and tell us how many men compliment them. It's a way to feel sexy, and confident about yourself, and it's very feminine."
One hat browser, decked out in a classic black straw, offers another theory for their popularity. "Men like women in hats because it's one more thing to take off."