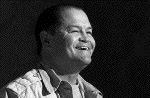 [Photo: Peter Redman,
National Post]

Micky Dolenz has been in show business since he was 10 years old.
He doesn't look like a Monkee. Hell, he doesn't even look like Micky Dolenz. When the former drummer and lead singer of The Monkees meets me for dinner at the Delta Chelsea Inn, I'm taken aback. He looks like he could be Micky's dad, maybe, but I certainly wouldn't recognize him if I saw him walking down the street. Yes, time marches on.
And this, Dolenz tells me, is exactly his plight. Ever since the '60s, he's been unable to shake the image.
"After the Monkees, it was hard to get parts. If I did get something, it was to play myself, the drummer from The Monkees," he says. "When I would go in for acting auditions, I would hear, 'What are you doing here, we don't need any drummers.' "
Dolenz, who is appearing in Elton John and Tim Rice's Aida, Disney's musical love story at the Canon Theatre, says, "Money follows art, art doesn't follow money. The reason I know that is because I'm from a show biz family. Fortunately my dad was very levelheaded. It was a business, we didn't grow up in the typical Beverly Hills kind of environment. I was born on a chicken farm in San Fernando Valley, California." Dolenz thinks that surviving a long time in the business (he starred in NBC's series Circus Boy at the age of 10) has a lot to do with the way he was raised.
"To me, it's not about being famous," he tells me. "I guess it's because I've always been famous. I love the success but in this business the success is proportionate to the fame you have. I'd prefer to be a successful lawyer and be anonymous."
I almost choke on my food, when I think of the many disgruntled lawyers I know.
"I don't want you to say that I'm down on fame," he continues. "It's just that it hasn't driven me."
At one time, he says, he aspired to be an architect. But though that dream didn't come true, he says he wants to be acknowledged for the work he does, which includes acting, writing and directing (he directed Bugsy Malone for the London stage.
At this point I look up and realize he is in some distress.
"I get overheated very easily," he explains, as I assure him it happens all the time with my dates. "I had laryngitis last week in Columbus. I knew I shouldn't have gotten up for that early morning show [Canada AM]."
But then he gets back to the nature of fame and, more specifically, his Toronto gig.
"Getting this part in Aida is one of the most important career opportunities in my life since The Monkees. I enjoy singing big time in Aida, and I'm the villain [Zoser], which is even more important to me. He's not the villain in the Disney sense, he's menacing, dangerous, very powerful, power hungry, ambitious."
Clearly he is very happy to be playing the bad guy. "Before the Monkees, I played the delinquent kid, the punk, because of my face. I don't have 'The Hero' face."
Dolenz is an unusual interview in that he is openly hard on himself. "In Aida, I only sing two songs. I normally sing a range and even though it's a rock show, I have to sell it. Last night, I wasn't up to par," he says. "My voice wasn't 100%. That was a bit disappointing. My understudy had to do three shows in Columbus."
I have a sudden inspiration.
I ask Dolenz's publicist to go to a nearby drugstore and get him some Buckley's Mixture. When she returns, he gamely takes a teaspoon of the nasty-tasting concoction and I assure him that Friday night's audiences will be pleased with his performance.