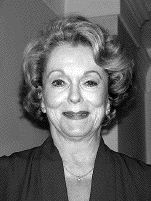 [Photo: Sharon Dunn,
National Post]

Shirley Douglas, who spoke at Convocation Hall.
As I approached downtown on Saturday, I was taken aback by the hordes converging on the University of Toronto following the rally at Nathan Phillips Square protesting the United States going to war with Iraq.
These demonstrators weren't young upstarts. Most were middle-aged, with children and dogs and placards, peacefully fighting the bitter cold. There were young people, too, but there was no attitude, no malice, only quiet concern. It certainly didn't seem like my idea of a demonstration.
I'm too young to have attended the protests of the '60s, when my older cousins with long hair and beads were attending sit-ins that sounded absolutely romantic and later proved totally ineffective. Which is why I couldn't resist going to the anti-war demonstration at Convocation Hall on Saturday -- one of many held around the world.
"There's about 15,000 here," a police officer told me, amazed. "We haven't seen anything like this in years."
Inside Convocation Hall, I looked around for Shirley Douglas, who was listed as one of the speakers. Douglas is the daughter of Tommy Douglas (father of Canada's health care system), and mother of Kiefer Sutherland (father of the television show, 24). She is also the former wife of actor Donald Sutherland. When she arrived, she was whisked immediately on to the stage.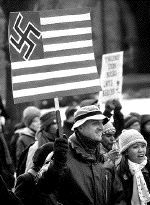 [Photo: Kevin Van Paassen,
National Post]

Anti-war protesters march along University Avenue in Toronto on Saturday.
"What a sight," said Douglas in her speech, delivered with an extraordinarily good set of pipes. "This reminds me of two of the truly good moments of my life: The anti-war movement of the '60s and the civil-rights movement of the '60s."
Following her speech, I cornered her in the hall, where she seemed more than happy to talk. "Did you notice how many people are here today who were involved in the '60s anti-war demonstrations?" she said enthusiastically.
I pointed out that was before my time. "It's the same mood," she assured me, then continued. "I'm here as an artist, and historically artists help people."
I asked Douglas about the '60s and the anti-war sentiment among the young people in those days, citing actress Jane Fonda as an example. "I know Jane very well," said Douglas, adding, "People make mistakes." Although, when I pressed her about whether she thought Fonda had made a mistake during her anti-war raves, she simply said, "No."
Douglas said she's been asked to speak at Harvard and UCLA. She is determined that Canada's voice be heard: "We are not a war-mongering nation. Canada is a peace-keeping country."
And she said the anti-war movement is mobilizing. "In America today, people from the '60s are still alive are ready to do it again. Look at the people here today, the movement is very strong."
Canada can make a difference, Douglas said, adding that it is our responsibility as the United States' neighbour to convince George W. Bush that the move to action is wrong.
I couldn't resist asking her about her dad's baby (public health), and I knew she wouldn't mind because she was handing out flyers that said, "Implement Romanow NOW," urging people to write the Prime Minister. (The online petition is at www.petitiononline.com/romanow.)
"People in this country have built something rare, the public-health system. Governments have tried to put it in crisis. I hope the Premier [Ernie Eves] will understand that and stop trying to bust this system. This is a very critical two weeks," she said, "with the premiers meeting in Ottawa. We [The Canadian Health Coalition] are saying, 'Stop privatization in this province.' I want the whole Romanow Report accepted," she continued, "I look at it and say 'if you implement this, there will be nothing else to worry about.' "
Douglas predicts that if the premiers can't agree, "then the public won't put up with it." She pointed to the U.S. health care system, which she said is close to collapse, "with 45 million people totally uninsured and 100 million underinsured."
Douglas is so passionate about her beliefs -- whether fighting for her father's health-care system or urging the United States to stay out of Iraq. She is inspiring to be around. And what is there to disagree with, I thought. She's right on both counts. Indeed, everyone who turned out on Saturday showed good sense and passion.
Then a lawyer stood up to speak. His name doesn't matter. He opened his mouth and screamed, "The U.S. is the biggest terrorist state in the world."
I cringed. I looked to my right and saw Alexa McDonough, the retiring NDP leader. She seemed to be rolling her eyes.
The speaker continued, spitting out more venom: "The U.S. is the biggest abuser in the world."
"God, I wish he'd stop talking," said a woman behind me.
My sentiments exactly. It was a bright crowd, a peaceful crowd, not looking for extremes but a peaceful resolution. But then one lawyer...