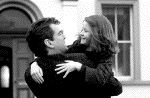 [Photo: United Artists]

Pierce Brosnan plays an unemployed man who fights for custody of his daughter, played by Sophie Vavasseur.
How long does it take to put your life on the silver screen? For Evelyn Doyle, the answer is about 15 years.
It was in 1987 that she presented the British Broadcasting Corporation's Paul Bender with a 30-page synopsis of her father's life, which involved a dramatic struggle with the Irish government after his children were taken away because he was an unemployed man whose wife had left him.
Bender produced a script from that synopsis, but it languished without a producer for many years. In that time, Doyle wrote a best-selling account of her family's ordeal, but gave up hope on the screenplay. So when Pierce Brosnan called to tell her he was interested in the project, she thought it was a joke.
"I thought it was one of my friends pulling my leg. I said to him, 'Bugger off, I'm watching Star Trek,' " she recalls. "Once I realized that the caller was serious and it was Brosnan, well, so much for Star Trek."
She was thrilled with the major-league interest in her story, and even more so with the result.
"I'm delighted with the movie. It's a fitting tribute to my father's bravery in taking on the might of the Catholic Church and the Irish state, in the days when it took an enormous amount of courage." Doyle, who is obviously still pinching herself, adds, "It is beyond my wildest dreams that Pierce Brosnan would play the part of my father."
I ask her for the real low down on the man best known as Bond. "Don't forget that Pierce is acting when he's Bond," she says. "He's a much more gentle, kind and sensitive man than Bond." (I had to agree, having had a close encounter with Brosnan when he was in town for the film fest. I recall him on his hands and knees, helping me retrieve items from my purse that had spilled onto the floor during a festival party.)
"Most people perceive him as suave, martini in one hand and a gun in the other, a one dimensional pretty boy, but it takes a real actor to take on the role of a real person, especially one whose family are scrutinizing that character."
Apparently, he passed that test. At the screening, Doyle's brother turned to her and said "Jesus, that really is the old fella up there."
Despite being awed by Brosnan, Doyle has found some of the media attention he attracts over the movie hard to take. "For example," she says, "the tabloids in England invented a row between Pierce and me. I've never had an argument with Pierce Brosnan."
Even though it was Doyle's mother that caused the whole ordeal, Evelyn is still sympathetic towards her. "It's not my job to punish her. She was spoiled, the youngest of a very large family. She couldn't cope with having a child every year." Still, there is no chance of a reconciliation. "I haven't seen her in 30 years. I wouldn't be interested in meeting her now -- that's all in the past. I lost a parent more than 30 years ago: My grief is spent and I got on with my life."
Doyle is now at work on a sequel to the print version of her story. It's not an easy task, though, because it's impossible to provide tidy conclusions to lives still very much in progress. "I hope it will satisfy the need for closure in the minds of the readers who wanted to know what happened next," she says. "Life is not Hollywood, and it's not so neatly packaged."