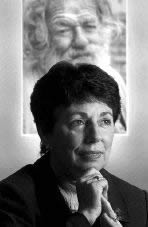 [Photo: John Lehmann,
National Post]

ANNE GOLDEN: Passionate about cities.
I interview Anne Golden by phone from her Ottawa office. "You're a fast thinker and a fast talker," I tell the president and CEO of The Conference Board of Canada (Canada's premier applied research organization), when she quickly gets on a roll.
"I speak fast, but I think carefully," she assures me. She is talking about cities and what makes them tick. "I'm very optimistic about the role Canadian cities can play in the quality of our lives," she says, although she admits, "there are fundamental problems -- cities don't have the money to do the job they have to do. They can't afford the appropriate housing, transit, infrastructure and, in the case of Ontario, education."
Where did the errors occur? "The budget had to be balanced, and in order to do that, the responsibility fell back [from federal level] to the provinces, and then to the cities. It was a cascade effect," she says.
Ms. Golden says Toronto's growth occurred from 1972 through 1990, but for the past decade, the city has been in decline. "It has been in decline because of the failure to address urban issues," she says, listing homelessness as one of the big issues. How would she solve the homelessness problem?
"You have to stop looking to shelters and look for affordable housing for the mentally ill and addicted, to start, and then look to a more aggressive policy to get people off the streets."
About her job at the Conference Board, she says, "I'm very attracted to the position because it allows me to take my passion of trying to make things work at a local level, to a national level. With the United Way [she ran the Toronto division for 14 years], I dealt with social issues, now I do it in a broader way with social, economic, and environmental issues."
How did Ms. Golden get to be one of the Power 50? "A lot of my life, without sounding corny about it, is about being involved. I was raised to be involved with the community."
Her father was a businessman, her American-born mother a homemaker. She has two sisters and two daughters, Beth, an "at-home" mother with four children, and Karen, a lawyer with two children. When I ask if she has political aspirations, she says vehemently, no. "I feel I'm making my contribution. My first love is public policy. My skills are research and analysis, I can contribute effectively."
As for her private life, "Aside from public policy, my passions are my daughters, my grandchildren and my husband [Ron, a periodontist].
"He's a lucky fellow to have been married to me for 42 years," she quips. "We grew together and we share the same values."
Born Jewish, Ms. Golden tells me, "I'm connected by history and tradition, but I'm not a religious person."
She is reflective as she says, "when I contemplate the extent of evil, it's hard to believe in a traditional deity that has a power to intervene."
I ask her what she thinks about the possibility of a nuclear war. "I was just discussing it this morning with some colleagues at the board," she says. "I feel extremely anxious about where we're at. When I look back in history, it's hard to know which analogy to focus on. What could this war unleash?"
On where life has taken her, she says: "I believe that I have been privileged throughout my life to do what I want to do and make a contribution, to do worthwhile things with worthwhile people. Everything I've done, I got close to people. I don't draw a line between work and non-work. The issues are ensuing for me, I'm not a 9-to-5 person."
And what would her friends say about her?
"Most would say that I love humour. Part of my motif, when I speak, is to always tell a joke."
I ask her if she is a woman who spends a lot of time in the kitchen. "From time to time, I revisit my kitchen," she says, "but my husband took it over when I was writing my Ph.D."
And she tells me that is one frontier she has no intention of reclaiming.