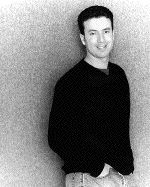 [Photo: Sharon Dunn,
National Post]

ADAM GROWE: "Tell Canadians to vote."
First Star Search, then American Idol, and now Star Search again. A renewed, invigorated Star Search, hosted by Arsenio Hall and inspired by the original Star Search program (with Ed McMahon), premiered last night on CBS. And one of the contestants tonight is comic and Toronto resident Adam Growe, who was chosen from thousands of applicants.
"I was scouted when I showcased, for the first time in L.A., in April at the Improv," Growe said over the phone from L.A. He handed over a tape of his performance from the Just for Laughs comedy festival that was held in Montreal last summer and that aired on CBC in November to the show's producers, and found himself on the short list. Then he made it to the final cut. He will perform tonight during the one-hour show that starts at 8 p.m. The show has four categories: junior vocalists, adult vocalists, models and comics. The grand prize is US$100,000, so the competition will be fierce.
The elimination process began last night with the first show, when one performer from each category was knocked off the list. Tonight, Growe, who does mainly commercial and corporate work out of Toronto, will go head-to-head with another comic (L.A.-based Jeff Garcia). Only one of them will advance to the semi-finals. At the end of the series, of the 12 original comics, only one will remain.
Growe has his fingers crossed. He and Garcia will each be given two minutes on the show tonight, after which a panel of celebrity judges will award them a score from one to five. Then Hall will advise TV viewers to click on to the Star Search Web site to cast their votes during a two-minute break. By the time the commercial is over, the results of the vote will have been tabulated and one comic will advance to the semi-finals. "Tell Canadians to vote," Growe pleaded over the phone.
And what kind of routine can we expect from Growe? "I'm your clean, corporate comic," he said. "I'm not a foul-mouthed kind of guy. I don't swear or do comedy for shock purposes, because if there are scouts, they might think, 'He's a funny guy but we're going to have to spend too much money to clean him up.' "
How are you going to win this thing? I asked Growe.
"I can't save anything. I'll do what I think will work best for this show, for prime time," he said. "For example, I have a good Jean Chrétien joke but I can't use it because no one in the States knows who he is."
"What's the joke?" I asked.
"It's very physical," Growe told me, adding it wouldn't work in print.
"They picked me from thousands of tapes from across the country," he reiterated, obviously still amazed.
"Now all you have to do is win," I told him. Talk about putting on the pressure.
"By the way," he said, "if I don't advance, I'm keeping good company." Growe listed some of the well-known names who appeared on the original Star Search but who failed to advance -- Ray Romano, Britney Spears, Martin Lawrence and Christina Aguilera.
"Imagine," he said. "They're going to have the results of the continent-wide audience vote in only two minutes. I guess their polling system is more reliable than the one used in the last presidential election. How long did it take to elect Bush?"
The grand finale episode airs on Thursday, Feb. 6.