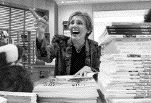 [Photo: Peter Redman,
National Post]

Lynn Johnston, creator of the For Better or for Worse comic strip.
Here's how Lynn Johnston, the North Bay creator of For Better or for Worse, reacted when she learned she was being honoured on Canada's Walk of Fame.
"Actually, the story is kind of funny," says the popular cartoonist, who was in town this weekend for the Book Expo. "I have some wonderful girls who work for me, and they stood around me as if they were about to give me a gift, and they said, 'Lynn, you're going to be on the Walk of Fame.'
"I said, 'I don't want to go to Toronto and put on my sneakers and my T-shirt and walk for five miles. Can't we just donate a piece of art or send a cheque?' "
That's when they explained that the Walk of Fame meant she was getting a star on the King Street sidewalk, not participating in a marathon.
Johnston hastens to add she was duly impressed when she heard the list of co-honorees, which this year includes Shania Twain, Mike Myers and Lorne Michaels.
"I thought, 'My husband will be thrilled to bits because of Shania Twain. He has her biography, all her CDs and he'd love her autograph, or at least to see her across a crowded room.' We've tried to get her autograph for him as a gift. Maybe this time, it's possible."
Sharing the honours with Twain, of course, creates its own problems, not the least of which is what to wear. "Shania will be wearing something that's taped on, and if I were her I'd be doing that too," says Johnston, "but I've got so many crevices I don't know which ones to show off. I'll have to wear two things, one for day, one for night. I have a long navy dress I'll probably wear, but the last time I wore it, it gave me cleavage up my back - the only time I've ever had cleavage."
For Better or For Worse is syndicated in a mind-boggling 2,000 newspapers worldwide. Johnston says producing the daily strip means she's always on the lookout for material.
"I can't take anything seriously, even weddings and funerals. At funerals, I'll count the number of times a minister hitches up his pants."
That said, she does get serious for a moment to discuss the neurological disease she has had for a number of years. It's a condition called dystonia, a movement disorder that causes her head to turn left when she lies down. The effect, she says, is like "the wringing of a heavy beach towel."
Why is she telling me about this? "Because a lot of people have it, and many doctors don't diagnose it. No one could tell me what it was, and two doctors didn't believe me when I told them my symptoms. One said I was neurotic, the other implied I was wasting his time."
According to Johnston, the disease, which can also manifest itself in eye blinking, mouth movement or difficulty swallowing, never goes into remission but is not degenerative after five years.
"But if you have infantile onset, you could be in a wheelchair by the time you're 20." She adds philosophically, "If I had to get this illness, it was the easiest type to get." Today she controls symptoms with Clonazepam, an anticonvulsant, and Effexor, for depression. Her advice: "Don't let anyone tell you you're making it up if you feel a movement disorder."
Johnston says her meteoric rise as a result of her comic strip taught her many life lessons. "You have to be nice to people. I was such an arrogant bitch. But I learned, because I married someone who brings me down to Earth," she says. "If it [celebrity] changes you, you can't do the work you were meant to do. I look at people like Michael Jackson and see how it can rot your mind."
Lynn Johnston's latest books are With This Ring, a compilation from her comic strip, and Leaving Home, an advice book aimed at survival for students who are on their own for the first time. She and the other Walk of Fame personalities will be honoured at a gala at Roy Thomson Hall on June 25.