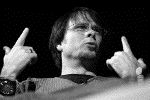 [Photo: Yvonne Berg,
National Post]

Jon Kinnally, part of the writing team of TV's Will & Grace, speaks at the Canadian Film Centre's Test Pattern series at the ROM.
I love a happy ending, I can't help it. And I can prove it. For example, I still have tapes of The Love Boat, and just last week I sat mesmerized as the Bachelor made his final decision and, on bended knee, chose my favourite, the pretty brunette Helene, to be his one and only. (That should teach the blonds a lesson; more fun my foot. I, too, was once a brunette.) The knight in shining armour is as old a tradition as Mom's apple pie, and I fall for it every time.
So how do I explain my interest in another television show, Will & Grace, where the gorgeous leading man (Toronto's Eric McCormack) is gay? If every straight female thinks like me, vicariously living the life of the show's heroine, and if she can never get the handsome hero -- well, no wonder the theme of homosexuality on television is still not an easy thing to portray.
I spoke with Jon Kinnally and Tracy Poust, two of the writers of the smash hit TV show, who were at the ROM last week as part of an event sponsored by the Canadian Film Centre. The writing duo admit they were hired on in part because their relationship resembles that of the show's star couple. Tracy is a nurturing, friendly girl-next-door type, and Jon is good-looking, smart -- and gay.
Struggling actors when they met waiting tables in New York City, Kinnally & Poust seem to be the backbone of the comedy and are certainly the adventurers. "We're trying to mess Will up a bit," says Kinnally. "The problem is that Eric's a leading man, so it's not easy to bring insecurity to his character."
Although we haven't yet seen Will intimate, Kinnally says, "we would like to put that on the air. It's a huge issue. Intimacy between two men is one of the last frontiers in the U.S."
He goes on to say, "You have to push the envelope. I want Will to make out, I hope it will happen."
Kinnally admits attaining that goal isn't easy. "We've mellowed," he says, "because we still want our show on the air. We've lost sponsors when it gets dicey, they've pulled out, ratings go down." Still, he says when there's trouble, usually he and Poust are behind it.
In case you haven't been watching Will & Grace, let me bring you up to date. Things came to a head on last Thursday's show, when Grace marries Leo (Harry Connick Jr.). Will admits he is afraid of being left alone, and sees his only option as "having a gay marriage where a drag queen sings Evergreen." Today Show host Katie Couric, who guests on the wedding episode, is blamed when Grace and Leo find out their marriage is invalid because the minister hired by Couric's television show isn't licensed. They then plan a second wedding.
This is the out, I figure; there will be no marriage. But the writers surprise me. The wedding does go on, with funny lines, like when the groom says, "I'll try my best to make Grace as happy as you have, plus sex." And when Will notes, "The cake showed up with two grooms on it. Is everyone gay in this city?"
And even as Will walks Grace down the aisle (after her dad's back gives out) and whispers, "This may be a bad time to tell you this, but I'm straight," I still can't believe she's going through with it. And I can't be the only one, since the show has an incredible following, even among celebs.
"We're becoming a high-end Love Boat" (so that explains my interest), says Kinnally. Aside from Harry Connick Jr., guests have included Woody Harrelson, Matt Damon, Kevin Bacon and Cher. Apparently both Madonna and Britney Spears have expressed interest in doing the show.
How does the success affect Kinnally & Poust?
"It gives you validation and confidence," says Poust, adding, "we're too neurotic to be too confident ... a writer's confidence is as good as the last job you pitched." With eight other great writers on the show, Poust says, "you get used to a contrary opinion. You have to learn to smile."
Kinnally adds, "We do the first draft and everyone gets their chance at it, to take a joke and make it better. We look at what we wrote and it's funny, and then we try to make it funnier. Sometimes I'm irritated by the rhythm," he admits, "joke after joke."
"We also try not to date it," Poust says. "Like if you watch Murphy Brown now, it's dated; they're talking about Dan Quayle. You can trash Madonna because she'll be around for a hundred years," she adds. "We're a pop culture show, but we try to limit it a bit."
Kinnally gives some advice for young and old writers alike: "Don't be afraid to write crap. It doesn't have to be good, it's all about the rewrite. Don't be afraid to take chances."
I point out that I recently saw an episode that featured Will coming on to another man. "I was shocked," I tell Kinnally, adding diplomatically, "not that there's anything wrong with that."
I chalk up my reaction to the fact that I've never seen anything like it on TV. "And that episode is from our first season," says Kinnally, pointing out how hard it has been through the past four years to progress on the homosexual theme.
"Why can't Will marry Grace?" I ask the writers. Kinnally looks at me in shock. After our discussion about finally breaking taboos, I still want the fairy-tale ending.
"He can't marry her," he tells me in quiet desperation. "He's gay."
To prove his point, Kinnally asks, "Sharon do you picture yourself ending up with a woman?" -- trying to show me how the homosexual Will could never get away with marrying Grace on the show. I have to admit that I don't, "but then again I don't necessarily picture myself ending up with a man, either," I tell Kinnally.
He looks at me, confused. "Don't go by me," I add. "But please," (turning a blind eye to the facts), "please let Will & Grace get married, they get along so great. I won't be happy with anything less."
And now look what the writers have done to me. Grace has gone and married Harry Connick Jr. Who would have guessed?