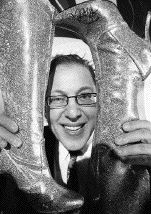 [Photo: Glenn Lowson,
National Post]

Dr. Hartley Miltchin has collected more than 200 celebrity shoes, including Pamela Anderson's boots.
Elvis was the hook. One of the King's favourite boots, worn by him in Double Trouble, Frankie & Johnny and Spinout, is on display at the Bata Shoe Museum, so I decided to go. It's just one item in a collection assembled over the past five years by Dr. Hartley Miltchin, a Toronto podiatrist.
"It came from the Elvis estate," he tells me when we meet, "and is evaluated at $100,000." (He won't tell me what he paid for it, or any of the other famous shoes and boots he's collected.)
Miltchin has just brought his collection out of the closet (so to speak) so people can have a look at some of his acquisitions, which include footwear belonging to Gene Kelly, Fred Astaire and Mickey Mantle.
He says the Elvis boot is naturally a big draw, but the biggest reaction comes from a pair of Madonna's shoes (which isn't part of this display).
"They're clear Lucite with a leopard pattern and a yellow ribbon that winds around the bottom of her legs. Dolce & Gabbana, that's all she wears," he says.
Miltchin's favourites in the Bata display include a pair of Eminem's Nike stage-worn sneakers (which were sold to him by the rapper's management company). They're signed "Slim Shady."
"I'm a huge Eminem fan," says Miltchin, adding that Eminem "signed only two pairs. I got two right feet and the other buyer got two lefts."
Obviously, Slim doesn't want anyone walking a mile in his shoes, which by the way are appraised at US$22,000.
"Look," says Miltchin excitedly as we walk around the exhibit, "I have Justin Timberlake and Britney Spears in the same room," he says of the shoes of the now-split duo.
I'm more interested in the classics. I stop at a pair of James Dean's dress shoes, brown oxfords, size 8 1/2.
"He left these at his publicist's house," says Miltchin. "Usually, he wore loafers or motorcycle boots." These are valued at US$75,000.
"What is unusual about my collection, and makes it rare, is that for the most part they are celebrity worn and autographed."
He tells me he acquired a pair of Phil Collins's shoes at a charity auction in England in 1994. "They reeked," he adds.
"You're saying that Phil Collins has stinky feet?"
"I'm saying they smelled musty," he explains. "But they were in storage until a few months ago, so that could explain it."
The collection also includes a pair of Lucille Ball's shoes (US$75,000), three pairs of Marilyn Monroe's (US$100,000 each) and a single silver shoe, a surprisingly small size 71 /2, owned by Jimi Hendrix, and worn with his famous purple-velvet outfit.
Miltchin has the tennis shoes worn by Serena Williams during her recent win at the Grand Slam Australian Open in January, and a pair of Nike golf shoes signed by Tiger Woods that still has golf-course grass between the cleats (valued at US$100,000).
A sneaker worn by Michael Jordan during the 1996-'97 playoffs and signed by the entire Chicago Bulls team is also on display. "That's the year they won 70 games for the season," says Miltchin.
When I ask the foot doctor if he can tell a lot about a person from his shoes, he leads me to Shaquille O'Neal's size 23 sneaker.
"Yes I can," he says wisely. "I can tell you that Shaq has big feet."
One of the most valuable pieces is Wayne Gretzky's skates, worn during two of his rookie seasons with the Edmonton Oilers. They were purchased unsigned, but Miltchin had someone follow Gretzky and get his signature. The iconic hockey star was finally cornered in his restaurant and he signed them. They're valued at US$175,000.
Other notable footwear includes Muhammad Ali's boxing boot, signed by Cassius Clay and Muhammad Ali, and a well-worn Beatle boot worn by John Lennon, which is part of the museum's permanent collection.
Miltchin shows me his latest acquisition, a size 8 sequined purple knee boot owned by Pamela Anderson, not the most exciting exhibit but they are my size.
"Try them on," urges Miltchin.
As I take off my boot, I notice an odd odour, the unmistakable stench of wet boots and wet stockings. I'm aghast. "It must be Pamela's boot," I lie, realizing I shouldn't have gone through the snow bank on the way in.
I yank and I pull the boot over my damp stockings, and this time it's Miltchin's turn to be aghast (though the boot is worth a mere US$4,000).
Feeling like Cinderella's wicked stepsister, and much to Miltchin's relief, I give up and shove my foot back into the dark recesses of my mukluk. I'd like to see how Pam's boots looked and smelled if they'd just spent four months trudging through Toronto snowdrifts.