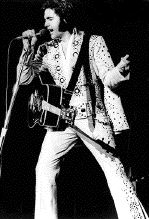 [Photo:
The Associated Press]

...with Elvis from the start. "She gets that hard-headedness from her dad."
Scotty Moore was with Elvis from the start. He was the King's original guitarist as well as his first manager, long before the infamous Colonel Tom Parker came along. Moore is performing at Casino Rama, in a show called The Elvis Presley Story, and I'm on a mission.
I want to ask Moore his opinion of Lisa Marie Presley's musical talent, and find out whether or not he thinks she's a chip off the old block. I was "inspired" to do this after watching Lisa Marie perform last week on The Tonight Show. Lord knows I wanted to like the poor kid, who barely got to know her famous dad, but I have to admit that she did seem a bit surly when she was talking with Jay Leno. I initially blamed the cocky attitude on shyness, but then she got up to sing -- "the only song they'll let me do [Lights Out]" she told Leno -- and I could see that liking her wasn't going to be easy.
She struck an unusual pose even before she started her song, with her legs bent and sprawled wide apart, a bit reminiscent of her famous dad, if you stretch it, but more reminiscent of how Quick Draw McGraw might look after spending a couple of weeks in a saddle. And where the stance looked sexy on Elvis, on Lisa Marie it just looked weird. When she started to sing, I cringed. Lisa Marie seemed to cringe too, looking apologetically toward Leno. I not only felt bad for her, I felt bad for Leno, the audience and for me. It was painful to watch. But what do I know, I reasoned. I'm not a music reviewer. And someone must like her singing, since the album is selling well.
So when I meet Elvis's old friend Scotty Moore, that's the question I have on my mind. "What do you think of Lisa Marie's hit single?" I ask, figuring I'll get a polite, politically correct answer.
"I'm not impressed at all," Moore says bluntly. "You can't even hear her. She's buried in the music. So I don't know if she can sing or not." When I mention that I didn't really take to Lisa Marie after seeing her on Leno, Moore says, "That's because Lisa Marie's a little rebel who needs her butt kicked." Ouch. Since this is the kind of statement that can look really bad in print, I want to point out that when Moore says it, with his Tennessee accent, it's almost in an affectionate way. "I shouldn't have said that," he frets before adding, "but she gets that hard-headedness from her dad." And, as Moore points out, it's not like he's saying something behind her back. "I'd tell her this to her face."
When I ask about the rest of Lisa's album, To Whom It May Concern, he says, "I've only heard the one song."
"I think it's the best one," I tell him. He looks positively flabbergasted. "You're kiddin," he gasps. "Why would she wait until she's 35 years old to do something like that?"
"But the album is doing well," I point out. Moore says that doesn't surprise him. "It's the famous name," he says. On the other hand, says Moore, "Lisa Marie recorded a song in Memphis with [the voice of] Elvis called Don't Cry, Daddy. [The recording was for the concert on the 20th anniversary of Elvis's death in 1997.] She did well with that song. She should have stuck with that style." The song was similar to the duets of another famous father/daughter duo, Natalie Cole and the late Nat King Cole, and was also put together by composer David Foster. "It was marvellous," says Moore. "I don't know why she didn't go in that direction."
On the subject of Lisa Marie's mother, Priscilla Presley, Moore has only good things to say. "I've never been close to Priscilla, but since Elvis's death, I've had a few dealings with her. I'm very impressed with what she did with the estate. It was definitely going under."
"How could it have been going under?" I want to know, given all of Elvis's tremendous success.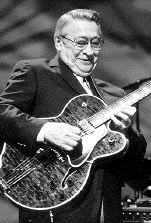 [Photo:
The Associated Press]

"Elvis was like a younger brother to me," says Scotty Moore.
"You haven't read those books about Colonel Parker, have you?" asks Moore.
But does Elvis's legendary sideman see any musical similarities at all between Elvis and Lisa Marie? He shakes his head. "Elvis's [talent] was just burstin' out -- it was more a matter of containing it than capturing it. And Elvis knew when he did something well, so he really became the producer of his own voice." Moore says he and the band "all worked together and played stuff that fit Elvis." Everyone was focused on Elvis, he says, and on getting it perfect for him. "But Elvis wasn't concerned with his voice -- it was the overall feel that was his thing. If a note wasn't quite perfect, Elvis was happy to leave it," says Moore. "If the band suggested trying again and improving the song, Elvis would often say, 'No, that felt good.' "
Moore met Elvis the first time they recorded, July 4, 1954. "Elvis was like a younger brother to me. I was four years older than him when we met and I had already been in the navy by this time." Moore says Elvis always seemed a lot younger to him. "You know he never grew up," he reminisces.
I ask the legendary sideman, who has recently recorded an album with the likes of Keith Richards and Ron Woods -- even Mick Jagger has expressed an interest in recording with him -- if he would consider working with Lisa Marie.
"If she'd listen," he says sternly. And he means it.