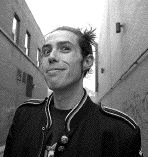 [Photo: Peter J. Thompson,
National Post]

Brad Peyton is writing and directing the feature film The Spider and the Fly for Tom Hanks' production company. It was his short film Evelyn: The Cutest Evil Dead Girl that opened the doors to Hollywood.
Looking like a Tim Burton character, 24-year-old Brad Peyton is wearing a band jacket he picked up in Toronto's Kensington Market, and his hair is piled on top of his head. "It's kind of a bun but it never really made it. It's the way I feel on the inside showing on the outside." Originally from Gander, Nfld., and a recent graduate of the Canadian Film Centre, Peyton has been hired by Tom Hanks' company, Playtone, to write and direct the feature film The Spider and the Fly. "I don't know where my love of film comes from," he tells me. "Maybe from drawing and writing when I was a kid."
Growing up in what he calls an isolated household (the family lived in a rural area outside of Gander), Peyton says, "I didn't have a neighbourhood. The nearest neighbour was over a mile away. But I loved to watch movies like The Wizard of Oz, Rudolph [at Christmas], The Invisible Man, Warner Brothers cartoons. I didn't get to see a lot of eclectic stuff. What I saw, I would watch over and over again. If my parents rented something they didn't want me to see, I'd get it on top of the fridge after they went to bed."
At the age of 14, Peyton would often go to the local Cable Atlantic building to borrow a camera. "I would shoot and try to train myself." Wanting to be a filmmaker didn't go over big at home. "It was a totally insane idea to everyone in Newfoundland. There was no one in Gander making movies. I had to leave Newfoundland to see it as a reality."
After winning awards in school for art, Peyton received a small art scholarship from Dalhousie University in Halifax. He stayed only a year and then moved on to Toronto where he started taking night courses. It was mainly to gain access to video equipment, he says. "I would shoot a short film a week." He also worked at Toronto's Uptown Theatre for about a year -- "just to see free movies. It was great." From there, he tried school again, this time Ryerson. That lasted six months. "Certain people like me know what they want to do," he says. "I didn't need the guidelines they [Ryerson] offered. I knew they were hindering me." ("Be gentle," he tells me. "I don't want them to hate me.")
Things quickly got better for him when he received a grant from the Canada Council after writing a script for a movie called Full. "It took 2 1/2 days to shoot, a month in prep and a month in post. It got played at a lot of festivals," he says, "and it got played on CBC."
After Full, his life started to change. The film got him into the Canadian Film Centre. This time he had a good experience in a structured learning environment. "The centre was much more conducive to someone like me. They embraced what I wanted to do and supported me wholly as a creative person." He credits director in residence John Paizs and producer in residence Greg Klymkiw with being particularly helpful. "I went in with a very distinct idea of what I wanted to do," he says, "and they were supportive of my creative risks. I was handed the strange stuff because I was considered the weirdo in residence." He laughs. "I was doing Coen brothers homages to Gone With the Wind on a $500 budget in a small room. I would say, 'I need 500 sheaves of wheat, some Styrofoam and a backdrop.' " Don't ask.
His thesis project was Evelyn: The Cutest Evil Dead Girl, a nine-minute film he wrote and directed. Described as a darkly twisted comedy about a lonely dead girl who tries to bring herself back to life in order to make friends, it is currently winning rave reviews and awards at festivals around the world. "They [the film centre] saw that I wanted to do very visual and progressive strange films. As a weirdo growing up in a small town, what I needed most was other weirdos to relate to." Evelyn, which Peyton describes as "very, very Seussian and Tim Burtonish" premiered at last year's Toronto film festival. The public will get a chance to see it during this year's Worldwide Short Film Festival running June 3 to 8 in Toronto.
It was Evelyn that opened the doors to Hollywood for the young filmmaker. Universal heard of the film and sent it to Playtone. "They sent me a book based on an 18th-century famous cautionary tale called The Spider and the Fly. All it took was for me to look at the cover of the book," he says. He was hooked. "And then when I saw her, the female fly, I knew I could fall in love with her." Hanks and company wanted Peyton's thoughts on how to adapt, write and direct the book, so they flew him to L.A. to do the pitch.
"I had never done a pitch in my life," he says. "I felt like I had landed in Oz. But when I went in, I kind of knew I was in the right place. The executive had an autographed Rob Zombie skull from the movie House of 1,000 Corpses." Peyton spent an hour and a half pitching his proposal and just when they thought he was finished, "I opened my bag and took out swatches for all the characters, character designs, set designs, wardrobe. When I was finished, the executive says, 'Great, we're doing it.' I was told that almost never happens."
Peyton signed the contract, and although he won't tell me exactly how much he's getting paid, he does admit it's in the range of "six figures for writing and six figures for directing." He intends to write the script this summer and expects the animated film to be in theatres in about 2 1/2 years. For his success, he credits "progressive people allowing me the freedom that I need to make movies.
"I hope," he adds fretfully, "the talented people around me get opportunities."