[ORANGEVILLE, ON]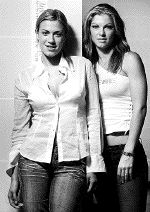 [Photo: Kevin Van Paassen,
National Post]
Bianka Matchett (left) of Orangeville, Ont., and U of T law student Jill Nelson -- both 25 -- are among 25 Canadian women featured in Playboy's special "Girls of Canada" lingerie edition.
I'm on my way to meet the "Girls of Canada" featured in Playboy's brand-new special lingerie edition -- at least that's what the ad says. Canadian girls in lingerie? I don't think so. Leafing through the magazine, I notice that most of the apparel is around the models' waists, if it's anywhere at all, with everything else completely exposed.
"In Canada, you're not considered naked if you wear slippers," Gino Empry, Hugh Hefner's promotions man in Canada, informs me. Empry has booked me for a luncheon date with two of the featured girls, but having looked at the magazine, I tell him I've lost my appetite. "Funny, it's had the opposite effect on me," laughs Empry, before asking, "Don't you like it?"
It's not that I like it or don't like it. I guess I'm just uncomfortable with nudity. Blame my childhood, my religion, my body, whatever -- it's just a fact of my life.
Twenty-five Canadian models are featured in the magazine, which hits the stands today. Among them is Toronto radio host (Q107) Joanne Wilder. The first of the models I'm meeting today is 25-year-old Jill Nelson, a third-year law student at the University of Toronto. She is stunningly beautiful. Originally from Halifax, Nelson grew up in Ottawa. When she sees me holding a copy of the magazine that features her and the other Canadian girls in all their glory, she seems nervous.
"I haven't seen it yet," she tells me. "Can I take a look?"
I hand her the magazine and watch as she nervously turns to her layout. "There I am," she laughs, adding nervously, "Well, there you go.
"I like them [the pictures, that is]!" she says. Nelson, who spent two years in Montreal, at McGill, and two years at the University of Victoria before entering law, says that eventually she would like to be an entertainment lawyer and hopes this spread will lead to other things.
"Like what?" I wonder aloud.
"Maybe I'll be a lawyer for this company, Playboy," she tells me. "You never know." She would certainly get the judge's attention in a courtroom.
She has been married for three years and insists that her husband and family are comfortable with her decision to bare all, but she does have one reservation: "I wish I could decide who gets to see the pictures and who doesn't." And she's glad she didn't do it (pose nude) when she was 18. "I'm happy that I waited until I was 25," she says.
Another model, Bianka Matchett, strides into the room. The Orangeville, Ont., native squeals when she sees that the magazine is out. I give her a copy and wait for her reaction. As she turns to her layout, she blushes as she looks at one of her pictures.
"OK, my legs are really spread open there," she says, then adds sarcastically with an eye roll, "My mother would be so proud."
She likes the shots, she says, but wants me to know that "this was the last set [of pictures] and I look so exhausted. I had my appendix out about three weeks before the photo shoot." We inspect the photos and can find no sign of a scar. "Do you think they airbrushed it?" I ask her. She guffaws. "Are you kidding?" she says. "Of course they did. They could change my whole head if they wanted to."
Matchett, who is taking time off from her marketing courses at George Brown College, doesn't model only for Playboy. She was recently featured in a more benign shot in a bathtub in a Home Outfitters ad.
About the Playboy layout she says, "I'm worried about my parents' reaction. They're Jehovah's Witnesses." That comes as a shock to me. "I didn't tell them about the shoot," she says, adding that she's most concerned about her dad. "I hope he doesn't find out." Oh, oh.
"Why did you do it then?" I want to know. "I'm very impulsive," she says. She explains she was at Hefner's mansion when she was 21 (she is now 25) and was going to do a photo shoot at that time. "But I chickened out and I regretted it later," she says before concluding, "I did it because I'm a little vain. I enjoy my body, I had the opportunity and I'm a bit of an exhibitionist." So there.
Matchett echoes Nelson when she says, "I wish I could filter who gets to see it and who doesn't." Still concerned about her parents, she frets, "They're going to shake their heads, and that look of disappointment is going to be in my dad's eyes." In her own defence, she adds, "I'm spontaneous and very comfortable with myself, but in my parents' house, I have a halo around my head.
"If my parents were able to accept it ... I feel bad because of the way that they might feel."
"I don't have any problems with it," Jill, the legal eagle, volunteers. "But please don't mention my parents," she begs, concern crossing her face as well.
The girls found their way into the magazine after an open call from Playboy that drew about 500 hopefuls. Empry assures me that Hefner makes the final cuts himself. "He makes all the decisions."
When I ask Empry about my chances of doing a layout, he says, "Very good." But on the money end, he tells me I'm worth "about zero dollars." That says it all, doesn't it? And here I was about to pose naked for a mere half a million.
By the way, the girls don't get paid the megabucks I expected. I understand that even a Playboy centrefold, one who is a non-celebrity, gets only about $25,000. So would I do it if the conditions (the money and my body) were right? No way -- my mother would kill me!