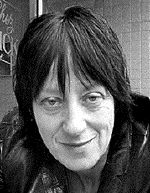 [Photo: Tedd Church,
CanWest News Service]

Carole Pope
Carole Pope -- she who donned plastic pants and bondage gear years before it was fashionable -- was in town this weekend to perform at Gobsmacked (billed as a "revel of offbeat expression" presented by Now magazine) at Harbourfront. It seemed like a good opportunity to catch up with Pope, the Juno and Genie winner who was the lead singer for Rough Trade.
I found her in her usual good form. These days, she tells me, she's living in Manhattan and has just released a dance single, a reworked version of Rough Trade's All Touch, in Toronto, Greece, London and New York.
Pope made waves in her autobiography, Anti Diva, which was published in 2000, mainly because she dealt with being a lesbian and her relationship with the late Dusty Springfield. She tells me that since then she's been trying to write a novel but has come to terms with the fact that "I can't write fiction because I'm a hack." She hastens to add, however, that she can write porn: "All you need is imagination and experience in sex, and I've got both."
Indeed she has. She says she's had sexual relationships with both men and women, though not with her friend, David Bowie. "I'm one of the only ones who hasn't been with him," she laughs, adding, "I'm sure I've been with someone who has been with him."
Male or female? I wonder aloud.
"Probably female," she says.
Pope is very relaxed talking about sexuality in all its manifestations, at least in part, she says, because society is much more accepting of a gay lifestyle these days. She cites the popular TV series Queer as Folk as proof.
"I really like QAF," she says. "It doesn't only appeal to gay men. It appeals to straight people and lesbians. It's hot and erotic. And Gale Harold, star of QAF, he's hot."
Warming to the topic, I query her about the sex appeal of other celebs, starting with Arnold Schwarzenegger (God knows why I started there; I guess it's because he's been in the news so much recently).
"He's a nightmare," Pope says, "and since we're doing a recall, why don't we recall President Bush while we're at it?" She describes the U.S. President in one word: "Ugh." When I try her out on former president Bill Clinton, she's much keener. "Clinton's hot, and Hillary's hot, too." (She adds: "We think she's a dyke. We think she's gone there.")
Turning to other female celebrities, she says, "Britney Spears is hot. Christina Aguilera is not." Kate Hudson, meanwhile, "does nothing for me, but Naomi Watts [Hudson's co-star in Le Divorce] is hot. And Princess Diana was hot." And Shania Twain is "pretty hot for a breeder." Clearly, the anti-diva is not finished making waves.
When I ask Pope if she's ever had children, she quips, "Not that I'm aware of. I have a nomadic lifestyle. When I grow up, if I meet someone and fall in love, I might adopt a Chinese girl baby." She says that if she does grow up, it will likely be a woman she falls in love with.
Which brings us naturally to the topic of gay marriage. "I never thought that heterosexual marriages worked as a concept," she says, "but I have to say yes to gay marriages because I've known couples that have been in long-term gay relationships, and when one dies the other is cast out by the family" of the dead partner. Part of the problem, she says, is that "straight people go, 'ugh' and think of the sex, but they should think of the partner who survives and is left out of everything. That's not fair. It even happened to Versace's lover. Donatella [Versace's sister] cut him off."
I point out that Versace could have taken care of his partner in his will. Pope agrees, but adds: "Think of it. They should have certain rights. And straight people should empathize because they've been there, too."