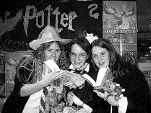 [Photo: Sharon Dunn,
National Post]

For Harry Potter fans Ruth Goodwin, 13, Ellen Payne Smith, 14, and Liz Johnston, 13 -- plus hundreds of thousands like them -- last weekend's book launch had all the excitement of a major movie opening.
There's a time and a place for everything and the long lineup of devoted Harry Potter fans at the Indigo bookstore at Eglinton and Yonge at midnight last Friday is definitely not the time or place to announce, "I've never read a Harry Potter book."
I get a few looks of downright disbelief and a few pitying glances. I am definitely a minority of one. About 500 people are waiting to buy the fifth instalment, Harry Potter and the Order of the Phoenix, some of them caped, a few carrying stuffed furry friends from the movie.
There are even real furry friends on hand -- a live boa constrictor, a white rat and a cockroach, compliments of an animal-leasing service called Critters, whose owner, Marty Cummings, is a Harry Potter fan. I keep a wide berth of the creatures, and decide to focus on three hugely enthusiastic girls.
"We are really into this," says 13-year-old Ruth Goodwin. "Harry Potter is my life." But it's not just about Harry. "The quidditch captain," says Ellen Payne Smith, "I have dreams about him. I'm such a fan." The 14 year old adds dramatically, "It's sad, to be engaged by one thing."
Ellen is shocked I haven't read any of the books, and assures me that "after reading the book, you can never read another book." She even listens to audiotapes of Harry Potter books every night until she falls asleep, "sometimes for up to an hour."
Liz Johnston, 13, tells me she has even memorized parts of the books. "Some people are reading them backwards," she tells me, "and one of our friends read each book about 50 times."
Surely an exaggeration, I suggest.
"Really, every time she reads one, she ticks it off," says Liz.
During the wait, the girls fret about who will die in Phoenix. I'm trying to worry along with them, but I just can't feel it.
"It's Hagrid," says Ruth. Ellen agrees. But Liz says, "I'm afraid it's one of the Weasley's."
Ruth and Ellen have prepaid for copies of the book at another store and must wait to pick up their copy. Liz is the only one buying tonight. "But we're going to smell it and take pictures of it," Ruth tells me. The three of them plan to go back to Ruth's place for a sleepover.
"The fourth book, I read in a day," says Liz, who tells me that she would like to marry Ron Weasley "and have lots of children."
Young people are not the only ones enchanted by the Harry phenomenon. There are a lot of adults in the lineup. Consultant John Winter, who is buying the book for his daughter, defends Harry when I say I've heard people say the books are no better than the Nancy Drew series and won't stand the test of time (which draws some hisses from the lineup).
"She's not a great writer," says Winter, "but she's tagged into a great idea. Book three is astonishingly good." He figures he'll have the book read by morning.
At midnight, I look around for my trio of girls, who have somehow edged right up to the front of the line. The countdown begins and the crowd roars: 10...9...8...7...
"Our young hearts can't take this any more," Ruth moans.
It feels like New Year's Eve, and as the clock strikes midnight I finally catch the mood. For a brief moment I am as overwhelmed with the excitement as anyone in the crowd.
When Liz picks up her book, she gasps, "I'm hyperventilating." Then she tries to get away from her friends, explaining, "I'm going to read it on my own for a while. It's my book."
But it is not to be. Ruth grabs the book and takes a big whiff of it. "It smells so good", she sighs.
"Let me try," I ask. I smell the book and ... nothing. Liz and I flip through it together and can't find who dies.
"She's [Rowling's] not just going to say who dies," Liz reasons. She reads from the book jacket: "Dumbledore lowered his hands and surveyed Harry through his half-moon glasses. 'It is time,' he said, 'for me to tell you what I should have told you five years ago, Harry. Please sit down, I am going to tell you everything.' "
The girls squeal with excitement.
I leave the rowdy crowd, Potterless, and head out into the night.