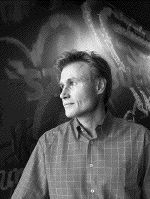 [Photo: Sharon Dunn,
National Post]

Kevin Sullivan produced, wrote and directed the adaptation of The Piano Man's Daughter.
Kevin Sullivan, the Emmy Award-winning producer, freely acknowledges he was in the right place at the right time when he made his hugely popular Anne of Green Gables series. "It was a unique time in television [1985], and significant funding was in place."
Now, says the president of Sullivan Entertainment, times have changed and it's every man for himself.
Case in point: his screen adaptation of the late Timothy Findley's The Piano Man's Daughter, which will be released on DVD tomorrow. His partner on that deal wasn't the Canadian government. It was Whoopi Goldberg.
"Whoopi and I had a common agent -- William Morris," the 47-year-old filmmaker tells me over coffee last week at Starbucks. "They were looking for projects for her as a producer and someone said that she had a Canadian project in mind."
This was several years back, he says, and "Whoopi was in Toronto making the movie Bogus, with Norman Jewison." She made the short walk from "the Four Seasons to Edward's Books. She walked into Edward's and said, 'Give me the best Canadian book on the shelf.' They handed her a copy of Timothy Findley's The Piano Man's Daughter and she went back to the hotel and read it. She went crazy. She loved it."
Next, she called Jewison. "How can I meet Timothy Findley? Do you know him?"
He did, and soon set up a lunch where they could meet.
"Both Tiff and Whoopi told me they fell in love with each other. They had a meeting of the minds, kindred spirits."
Sullivan came into the picture through the L.A. agent.
"The agent said, 'Kevin's the poster boy for Canadian content. He'll probably be interested in making the story.' And Whoopi thought it was such a Canadian story that it had to be made in Canada. So Whoopi and I met, and she went on and on and on. She really identified with the lead character because her first movie was The Color Purple, where she played the part of Celie. She identified with Lily in The Piano Man's Daughter because, even though their dilemmas in life are totally different, both Lily and Celie took control out of abrasive situations."
Sullivan adds that Steven Spielberg cast Goldberg in The Color Purple only after she approached him. "She was a stand-up comic at the time, and she became disillusioned with the whole process [of movie making], the press and everything else."
Of The Piano Man's Daughter, Goldberg told Sullivan, "I want to produce this movie. I would love to play all the parts in this movie."
And she insisted that for the film to be successful, it had to be faithful to Findley's original material.
"We kicked it into place very quickly," says the filmmaker, who wrote the script for the adaptation as well as produced and directed it.
He insists Whoopi, who is listed on the DVD as executive producer, played a big role in the project. "She nurtured it with me in terms of script development."
In the end, Whoopi didn't appear in the film, which stars Wendy Crewson, Christian Campbell (brother of Neve), Marnie McPhail, R.H. Thompson and Stockard Channing.
It premiered in Cannes in 2001. "We were looking at a U.S. release," says Sullivan, "but we decided it was too much of an art movie. It was risky, you can lose a lot of money." The movie was released in Europe, and Sullivan says it did very well in France.
"Findley is popular in France," points out Sullivan. "He sold his farm in Cannington, Ont., and moved to Provence with his partner, Bill Whitehead. He finished writing Pilgrim there."
Being true to the book posed challenges: "I tried to interpolate from the book -- the insanity, epilepsy and the mystical side as well. Findley brings a mystical level, like the book is partly a ghost story.
"He is a writer who has no idea where the makings of his books arise from. He approaches things esoterically, very evolutionarily. He doesn't plan where his characters are going."
That kind of book is obviously difficult to adapt for the screen: "My job was really to find a structure and be able to depict his atmosphere on screen and tell a concrete story -- not an easy thing to do."
And Sullivan's next project? He hopes to adapt Findley's 1981 novel, Famous Last Words.
"People are very passionate about Tiff in Canada, as well as in England and France."
Indeed, so passionate that Sullivan still talks of Findley, who died in France last year, in the present tense.
Proof, if anyone needed it, that great writers never die.