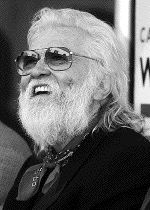 [Photo: Photo: Peter J. Thompson,
National Post]

Ronnie Hawkins is "just sittin' back tellin' girl stories. There ain't too much happenin'," while ...
I planned my vacation to coincide with the SARS concert, but as I watched the events from my Nova Scotia hotel room, I suddenly felt terribly left out. I wondered if I'd made a mistake. Of course, as I was swimming in the ocean yesterday, the Stones were the furthest thing from my mind, but the problem is, since our summers are so short, I want to do it all. How does the rest of the country handle their vacation plans, I wondered.
I called Rompin' Ronnie Hawkins, figuring he'd have big celebratory plans for the summer after miraculously beating cancer earlier this year. "They're still filmin' me," he says, referring to the X-rays being taken to try to shed some light on the terminal cancer that seems to have disappeared. "Considerin' everythin'," he says, "I'm fine. I'm off the endangered list. I'm just sittin' back tellin' girl stories. There ain't too much happenin'," he admits, although he tells me he expects a big lineup come fall.
"I think I'm goin' to get a big cover on the Rollin' Stone magazine. Is that still a big deal?" There's more. "Ophrey Winfrey [he really did say Ophrey] -- I'm supposed to be on Ophrey with my healer, Adam. I'm gettin' a lot of press." As for the rest of the summer he says he's "sittin' in the yard, gettin' caught up with my grass. It has outgrown me."
Filmmaker Norman Jewison is in town hard at work in post-production for his movie The Statement, starring Michael Caine. The movie was shot in France. I'm told that he's working through the summer 9 to 6, five days a week in his downtown studios. Jewison's wife, Dixie, is at the farm on Lake Simcoe and Norman joins her on weekends. "He normally spends a great deal of time there in the summer," says a source, "but he's been in the editing room since the picture wrapped at the end of June, and will be there for the entire summer and part of the fall." But don't feel too sorry for Jewison. He does get to the boat on the weekends.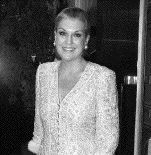 [Photo: Peter J. Thompson,
National Post]

... Catherine Nugent has just returned from a cruise of the U.S. eastern seaboard.
Singer Anne Murray is in Nova Scotia and has no intention of going anywhere else this summer. "I've had a particularly busy year," she tells me. "I'm taking the whole summer off -- I'm here for three months. I should be able to dictate what I do, but I still can't." Her next American tour starts Oct. 10. Has she ever considered retiring? "I've never taken enough time off to know -- you get nervous about stopping. I still play to packed houses. Why change it if it isn't broke?" As far as her summer goes, except for an appearance in her hometown of Springhill on Anne Murray Day, she says, "I steer clear of things when I'm on holiday. It's a family time. This is a big escape for me."
And what about Toronto society folk? Catherine Nugent, now living in Toronto, has just returned from a cruise along the eastern seaboard of the U.S., while Cathie and Rudy Bratty are at their place in Wasaga Beach. Perennial society woman Carole Grafstein was on her way to see the Stones when I called. I was momentarily surprised until I remembered that her husband, Jerry Grafstein, was co-organizer of the event (along with MP Dennis Mills). "He's been up there since 5 a.m.," she told me. "I figured you were calling because you wanted tickets." When I asked if she was a Stones fan, Grafstein said quickly, "No, but I am a Justin Timberlake fan."
Now that the concert is over, Grafstein says they're just going to sit around their pool the rest of the summer and relax. "There aren't too many people travelling," she says. My friends who usually go to France aren't going this year. They feel safer on this side of the ocean. They want to spend their money in North America -- we need it."