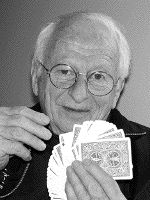 [Photo: Sharon Dunn,
National Post]

Ace up his sleeve? Patrick Watson
I don't like magic tricks; they scare me and always have. And now I find out that Patrick Watson, writer, broadcaster and former chairman of the CBC, is not what he seems. He's a magician.
I note that he looks much healthier in person, with an almost ruddy complexion. A trick, I presume. Amazingly, I have never before met the dear Watson, who is co-writer and director of the The Conjuror, starring David Ben, a magic show now playing at Isabel Bader Theatre in Toronto.
Watson, who has been performing magic since he was a lad, says as he produces a deck of cards, "My mother made me a suit of tails when I was 12," which means he's been into magic for some 60 years.
"When I was head of CBC," he tells me, "I picked up Allan Slaight's book, Stewart James in Print, and never got out of bed. Slaight's the one who got me interested in card tricks."
In case you don't know, the late Stewart James, from western Ontario, is a magician who left a legacy of thousands of original magic tricks performed worldwide, from card tricks to elaborate illusions. And Allan Slaight is famous as head of Standard Broadcasting (now Standard Radio). Slaight was in the news himself recently, in a list of the 10 richest people in Canada, a magic trick unto itself.
"We had been getting together for magic lunches," says Watson, adding that, buoyed by their combined talents, he and Slaight decided to take their magic act on the road -- well, sort of. They performed at Smile Company, a charitable theatre.
"That night, after the performance," says Watson, "my wife, Caroline, woke me and said, 'If you ever do anything like that again, I'll divorce you.' "
"Were you that bad?" I ask.
"I was terrible," says Watson, "and Slaight wasn't any better."
Watson, who was chairman of CBC from 1989 to 1994, tells me, "I wanted to close down the CBC and start fresh." His challenge was, "how can we use this medium to make this country better?" But, he adds, "it was disheartening to discover that a number of powerful members of CBC senior management were not the least bit interested in public broadcasting, or their mandate; they were only interested in defending their territory."
I can see that Watson is still upset about this. "And they almost fooled me," he says. "When I came in as chairman, it was, 'thank god you're here.' " He guffaws. "They nearly had me."
Since he left that post, Watson points out, "I haven't been able to get a job at CBC." He tells me that being chairman of the CBC was the worst job he's ever had. Ironically, the best job he's ever had, he says, was as a producer at CBC.
"If you're such a good magician, why couldn't you make the CBC disappear?" I ask.
He laughs, and when he catches his breath says, "hell, making it disappear would be easy. The big trick would be turning it into a public broadcaster." Ouch.
Speaking of the corporation, I saw CBC's Rex Murphy commiserating in a corner of the restaurant with Preston Manning. Having never met Manning, I was dying to go over to say hello and maybe set up an interview with the founder and former head of the Reform Party, but I didn't want to offend Watson.
"By all means, go ahead," says Watson. Unfortunately, Rex tells me Preston has left. I notice when Rex gets up to go, he doesn't acknowledge Watson, unless I missed something, which is possible, but not likely.
I should mention that magic man Watson also has a new book on the shelves, The Canadians -- Biographies of a Nation, Volume III, based on a television program on History Television, and comprising profiles on great Canadians in history. This volume includes racehorse Northern Dancer and Watson's personal favourite, Marion de Chastelain, one of Canada's most important spies. Eat your heart out, James Bond.
Now of course I'm going to force Watson to prove that he's a magician. I inspect his deck of cards, and it seems to be legit. After doing the whole magic trick routine, he astounds me by eventually pulling out the card I chose, ace of diamonds. Watson tells me candidly that sometimes he has the queen of hearts up his sleeve, because that's the card chosen most often. He says that only twice in 10 years did he get the wrong card.
Watson insists he made it up (the trick that is), but it looks an awful lot like a card trick Slaight once showed me. But then again, you've seen one card trick ...
As I prepare to pay the bill, I notice that my gold Visa card is missing. It crosses my mind that my friendly magician lunch guest might have used his sleight of hand to take it (as a joke, of course), but unfortunately, this is not the case.
A quick call to Visa confirms the worst. It seems that in the span of time it took me to walk from my car to the restaurant to meet my dear Watson, another erstwhile magic man or woman has reached into my shoulder bag and lifted my card. Since I met Watson at 1 p.m., and Visa tells me the first purchase (for $1,000 at a downtown ladies' shop) was made at 1:10, the trickster didn't waste any time. The second and last purchase was at a men's shop at 1:20 for $850.
Although Visa assures me I'm not on the hook for the 10-minute, $1,850 shopping spree, it does makes my head spin. I didn't see that card trick coming either, so obviously, I'm a magician's delight. Talk about conjurors.