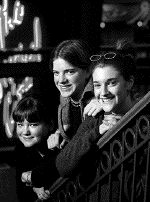 [Photo: Chris Bolin, National Post]

From left, Nicole Simon, Mae Martin and Gaby Leith met three years ago when they were training at Second City.
I was shopping at Fairview Mall in North Toronto just a few months ago when I made a big mistake. A teen singer had taken to the humble stage at the bottom of the escalator. She was an unknown, the kids told me, who had a song on the radio, a song titled Complicated.
I liked the song but didn't bother to walk the few steps to talk to her. Not big enough, I decided.
The girl was Avril Lavigne.
Determined not to make the same mistake twice, I headed downtown last week to interview a trio of teens who call themselves the Young & the Useless.
And young they are: Mae Martin is 15, Nicole Simon is 15 and Gaby Leith is 17. Useless? I wanted to determine that for myself.
"We parody young people," explains Mae, who says they met when training at Second City three years ago.
They last performed there in early September to a packed house -- "mostly family and friends," says Nicole, humbly.
I ask them to do a skit for me, and they get up and do a hilarious bit of teen humour. Their comedy uses such teen targets as "mom, the bitch, and that kind of thing," says Mae. "We're wannabe goths," she says.
"You mean gothics?" I ask. I've never known exactly what a goth is.
They nod.
"And poseurs", says Nicole.
"Posers? You mean you're posing as someone else?"
They laugh.
"Yeah, like the teachers at our school, parents, really mean kids."
"So you parody bullies?" I ask.
"Yeah," says Gaby, "and all teens. Teenagers today don't understand what they're doing."
"Yes they do," argues Mae.
"No they don't," counters Gaby.
So is it yes or no, I ask.
"Yes," say Nicole and Mae.
"No," says Gaby, "my friends don't."
"My friends do," says Nicole.
"People are ignorant and consumed in themselves," says Gaby. "Kids in high school have no originality. They all look the same, so we make fun of them. Teenagers are not interesting. We try to be very realistic, and we make fun of ourselves too."
Someone disagrees, and at this point I'm not sure who.
"So you agree on nothing," I say.
They shrug.
Perhaps if I ask them about today's teens I can find some common ground. I start with Avril Lavigne.
"I used to really like Avril Lavigne," says Nicole, "and then she was interviewed and said she got in bar fights, and I was disappointed."
"We love Avril," say Gina and Mae.
Eminem?
"I love Eminem," says Gaby, at least I think it was Gaby. At this point one girl is morphing into the other two.
I ask the show's producer, Steven Shehori, about this: "It happens," he says with a laugh. "And they argue all the time. It takes a while to get through the rehearsals." But he figures it's worth it. "It's extremely unusual to see this level of sketch comedy in kids their age."
Daniel Shehori, Steven's brother and the show's director, agrees. "I've never seen anything like it, especially in their age group."
I look at the trio and try to pick out the star of the future. I can't. Each is talented, and I hope they stick together, arguments and all.
"We want a TV show," says Mae or Gaby or Nicole.
For once, nobody disagrees.