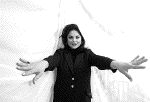 [Photo: Glenn Lawson,
National Post]

Delta Burke says she started having panic attacks while she was working on Designing Women. "I was so busy, and the media was so nasty."
'I look a lot better in person than on TV, don't I?" Delta Burke asks. I agree, but her demeanour throws me off. She walks slowly and deliberately. "I'm spaced, so tired [from her trip from California the day before]," she tells me. Sitting in the Four Seasons Hotel, I decide to order chocolate cake, and Burke, 46, quickly follows suit. "Is that on your diet?" I ask, realizing it's not on mine. "I eat whatever I want, I just eat less of it," she tells me. Burke, who is in town to talk about her lifelong struggles with depression, says, "I got it [depression] as a teenager, and when I got older, it got really bad. It got darker and longer."
During Designing Women (she played Suzanne Sugarbaker) "it got so bad I had to be hospitalized," she says. She started having panic attacks. "I was so busy, and the media was so nasty." She sighs. "I was surprised because I had always been so accommodating for them, posing for pictures ... That first year on Designing Women I did all the press, I gave up my holidays." She says her biggest fear was that she would have a panic attack on the set, "in front of people."
No wonder she was afraid. Her panic attacks would manifest themselves with convulsions and "horrible wailing. It was so bad," says Burke, that "for a period, I was wearing Xanax [the anti-panic drug] in a locket around my neck." Burke says it was all caused by stress. It was the making fun of her weight that really got to her. "The weight fed the depression and vice versa. I was so overwhelmed by the bad press and ugly articles -- it was all about how much weight I had put on, jokes, Joan Rivers -- you couldn't look anywhere without reading about it." And to top it all off, she says, "I read [in a tabloid] that Mac [her nickname for actor husband Gerald McRaney, she hates the name Gerald] was having an affair with Shanna Reed [his co-star on Major Dad; he wasn't]. I drove up to the mountains with a gun beside me. You want the pain to stop."
"I was taking Xanax," she says, insisting "you can't overdose, but you can look pretty funky the next day." Once up in the hills, she says, she kept popping Xanax. "I got out of the car and stood at the edge, and then I just fell and started to roll down the hill." At that point, Burke says something snapped to bring her back to reality. "I heard the coyotes and I thought, 'This is not the way I want to go, I don't want all this in the media.' So I climbed up the hill and got back in the car. I called Mac from a gas station. I didn't know where I was." Mac was apparently so worried he broke the security gate at home as he hurried out to find his wife. The next day, says Delta, she drove herself to the set, "and the crew kept coming up and saying, 'We're with you.' We were taping the famous episode of the Supremes, and the crew was walking me around." Burke says that was the beginning of getting her depression under control. "I started out with Prozac. It saved my life. It got me well enough to get me into therapy." Once in therapy, she was taught how to cope with situations. Now Burke takes the new antidepressant Effexor XR. "I get stressed easily," she admits. "The last few months, I've been taking Valium, too." I ask if she's taking Valium today. She says no.
"But you seem so spaced-out," I press.
"Just tired," she insists. "I will always be on medication for depression," she adds. "Some people need it for only a short time, but I'll be on it forever."
When I ask if she was ever serious about suicide, she says, "you think of death and ways of doing it, but you know that you're not going to do it." Her Baptist religious beliefs stopped her, she says. "I was taught that if you do that [commit suicide], you go to a bad place."
I ask Burke why she wants to tell me all this. "I get inspired reading other people's stories, whether they're well known or the average Joe," she says. "I talk honestly to people and they can relate to me." Burke says fans constantly approach her. "And they all look like me. We're all big -- that's the way women look in America. Watch any of the talk shows, and look at the women sitting in the audience. They're not skinny women."
Losing weight, she says, was a very slow process. "I hate exercise." She was at her heaviest (215 pounds) on Designing Women. "Now I'm 160, but I remember wanting to die because I weighed 170."
Married to McRaney for 14 years, Burke is sporting a five-karat engagement ring she picked out herself. "When I saw this ring, I told Mac, 'I would feel so engaged in that ring, I would never forget that I was engaged.' " Burke, who has no children, jokes, "The urge to have children would hit me occasionally, but, like the flu, it would pass.
"Besides, it didn't happen," she admits, "and I didn't want to start going to doctors and trying in vitro." Instead, she says, "we have six dogs and two parrots." And they don't have a housekeeper. "We do what we can. The house is kind of a mess. I call it Casa Chaos."
"Are you wealthy?" I ask.
"No," she tells me. "In 1995, our business manager announced, 'You have no money now.' We had a mansion in Pasadena, but we had to sell it for something more modest. We went beyond our means -- we were kids from the sticks," she says. "If I had to do it again ..."
The couple now live in the San Fernando Valley. "It's not cool to live there," she says, "but it's the most normal place we've ever lived. If I make it again, I won't be stupid. I need to be practical."
Burke is currently working on a pilot for a show called The Sweet Potato Queens and she's optimistic about her future. "Most people can't afford to retire," she says. "I want to grow old working, like Betty White or Doris Roberts [of Everybody Loves Raymond]."
Because she is wrinkle-free, I ask if she's had work done on her face. She volunteers that she's had her chin done (after her weight loss), but that's all. "But," she adds, "I intend to study up on all the plastic surgery methods and get a major overhaul by 50."
As we get up, she tells me that she's enjoyed her flourless chocolate cake, "but I do prefer a good Duncan Hines or Betty Crocker," she quips.
Burke ends the interview talking about her marriage (her first and McRaney's third). "It's good," she says. "We're so damn grateful we found each other -- no one else would have us. I wish we'd met sooner, but he wouldn't have appreciated me then. He had to go through those two wives."
In this part of her life, at least, panic seems to be the furthest thing from her mind. "This man really loves me. No matter how fat I got, he thought I was great."