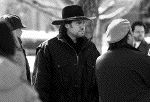 [Photo: Carlo Allegri,
National Post]

Billy Ray Cyrus on the set of Doc, which is filmed in Toronto.
A southern boy from Eastern Kentucky, Billy Ray Cyrus of Achy Breaky Heart fame, has been living in Toronto for the past three years, shooting the television show Doc. In the United States it was voted the number one show to watch in 2002 by the Parents Television Council.
As we meet, we settle in front of the electric heater Cyrus has running full-blast in his trailer on the set. "I remember a worse winter," says Cyrus, who is 41. "Three years ago [when he moved here], there was ice everywhere. This year it's just been snow. I can deal with that."
Cyrus, who got the acting bug after appearing in director David Lynch's movie Mulholland Drive, tells me, "David Lynch said to me, 'It's none of my business, but why don't you act more? Just be yourself, you're a natural.' " But in spite of Lynch's support, Cyrus wasn't thrilled with his role in Mulholland Drive. "Man, I was in bed with another man's wife, and I was in a fight. I was worried my kids would grow up to see me in this movie. Then Doc showed up," he says. "I read the script and thought, Doc keeps everything real, and close to the way Billy Ray would play it. So I just play myself. I let the real actors act."
Cyrus plays Dr. Clint Cassidy, a greenhorn physician from Montana who moves to the Big Apple (Toronto is a stand-in for New York). It's a role Cyrus says he can be proud to have his six kids watch. His character is good-hearted, but naive and funny. In one episode, for instance, when a fellow physician brags, "I graduated from Johns Hopkins," Dr. Clint quips, "Now I know who to send my patients to if they're really sick."
Cyrus, who has just released an album of inspirational songs called Time Flies, says about the stress of working on a weekly show, "I give a lot of credit to the Toronto crew. I've not seen it come to blows yet, not one punch thrown." He seems surprised. "I take it all in stride, I don't like to argue, I've never raised my voice to my kids." Although I had heard that Billy Ray's kids are not all biologically his (he's married to second wife Tish), he tells me, "I don't differentiate between them."
Cyrus was living in his Chevy 10 years ago when his hit song changed his life. "Whoever said 'Through our adversity, we become stronger' was right." Life was tough for a kid in Flat Woods, Ken., he says. "I was really, really ugly -- the other kids made fun of me from Grade 1 to Grade 10."
When I tell him that I somehow can't picture that he was ever really ugly, he says, "I just looked goofy and the fact that my parents were divorced ... no one was divorced back then. I lived with my mom and I was embarrassed. We didn't even have a phone -- well, sometimes we had a phone [when his mother had money to pay the bill]." Cyrus sold an unbelievable 14 million records of the album (called Some Gave All, a tribute to Vietnam vets, and containing Achy Breaky). "Whenever we played the bars, we had to play Achy Breaky three or four times a night," he laughs, "and the dance floor would pack."
"I'd like to apologize to the city for tying up traffic," Cyrus says, getting back to his Toronto TV show. "I don't like to interrupt the city. Just today there were about 200 of us [shooting downtown]. I looked around and said, 'Wow, man, these people in Canada are patient,' the city takes it in stride, although every once in a while someone lays on the horn.
"But there is something that really bothers me," says Cyrus. "And that's that I'm an American living in Canada." Cyrus worries about the recent tensions. "Bush is the President and I really admire him." (Bush even used Billy Ray's song We the People from the album Southern Rain as the official theme of his presidential campaign.) But, says Cyrus, "I remember a couple of days after Sept. 11, I was living in Canada, and President Bush addressed the Congress on television. And he said, 'We have no greater friend than Great Britain,' and I couldn't believe it. I screamed, 'Oh God, what about us? I'm living up here in Canada.' "
Cyrus wishes Bush hadn't singled out a country, but says, "If he was going to single out one ally, it should have been Canada." And "it didn't help," he adds, "when they [the American pilots] accidentally bombed the Canadian troops."
When I ask Cyrus what he thinks about Liberal MP Carolyn Parrish calling Americans bastards, he says, "I don't know if she was calling Americans like me bastards, or the President a bastard, but I'm not going to worry about it. She seems like a loose cannon."
Cyrus says he's not one to be political, but "Let me tell you what I think. I think that Canada and America should always remember that they are brothers, that they watch each other's backs ... I've lived here for three years. It's not the weather that makes a country, it's the people," he says diplomatically.
- Doc airs on CH Hamilton; CH Vancouver Island and Showtime.