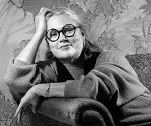 [Photo: Kevin Van Paassen,
National Post]

Sharon Gless, of Cagney & Lacey fame, just finished shooting a segment of Judging Amy with her former co-star Tyne Daly.
Remember Sharon Gless? She played Cagney to Tyne Daly's Lacey on the hit television show of the '80s. Her role in Cagney & Lacey got her six Emmy nominations, two Emmys and a Golden Globe.
"It ran for six seasons [1982 to 1988] and at the time we were the highest-paid women on TV," Gless tells me over lunch at the Four Seasons Hotel in Toronto. If her show was on the air these days, she says, she could ask for, and probably get, ten times the amount of money she was getting in the '80s.
Since the stars of Friends are now getting US$1,000,000 an episode, I'm concluding that Gless and Daly were making about US$100,000 an episode, not bad for almost 20 years ago. She doesn't dispute my calculation, but she doesn't want to talk money. Gless wants to talk about her latest TV show, the show that brought her to Canada three years ago and has her living in Toronto. The show is Queer as Folk (its third season will premiere in Canada on Showcase Monday, April 7, and on Showtime in the U.S. on Sunday, March 2).
"My agent didn't want me to do it because of the subject matter," Gless tells me. "He said, 'I'd never let you do that show -- the part is too small and the subject matter is questionable.' " Gless now has a new agent. "I told him, 'There are no small parts.' When people tell me, 'This is not something for you,' that's exactly the reason I want to do it."
Gless says most agents wouldn't even return calls to Queer as Folk in the early days. "There have to be agents and actors who are chewing their nails for refusing it," she laughs. "It's the biggest hit that Showtime has ever had."
Gless grew up in tony Hancock Park in central L.A. "Hancock Park was good debutante breeding ground. I had fantasies of becoming a Stepford wife." Instead, she played one in Revenge of the Stepford Wives.
The family money came from her grandmother. "Every time my grandmother gave me money, I had to dance for it. I didn't want to answer to anyone so I ran away from home."
She went to Conzaga (the Jesuit university) in Spokane, Wash., and was kicked out "for sneaking booze in, and for sneaking out on the weekends and renting a room to party." In her defence, Gless says, "but there was no sex. No one was having sex in those days." It was just before the hippie free love movement.
Gless, 59, has no children "and no pets." She managed to stay single until she was 48, when she married the creator and executive producer of Cagney & Lacey, Barney Rosenzweig. "I never wanted to get married," she says. "I've never seen a successful marriage, at least not one that I wanted to be in."
The success of her marriage she attributes to the fact that they live in separate towns (Rosenzweig in Miami, Gless alternating between Toronto and L.A.). "I don't think I'm good marriage material," she concludes. "I was single for too long. I'm a free spirit."
Gless, who admits that her favourite thing to do is work, says of her role in Queer as Folk (as Debbie Novotny, the waitress mother of a gay man), "I never wanted to play anyone's mother, but wait til you see this mother."
On the show, she dresses over the top and wears a red wig. She's not recognizable from her Cagney & Lacey days, and seems self-conscious about it, but I think she looks great, with flawless skin.
"When I first came to this show, the producers said, 'Sharon, this story doesn't star Debbie. It's an ensemble piece.' I didn't know what to do with my energy. I was so used to carrying the show."
Queer as Folk, which Gless admits is "very graphic" (she's not kidding, I've seen it) and which was once described in print as making Sex and the City look "like Saturday morning cartoons," has been a boon for Showtime. "Because of Queer as Folk, the number of subscribers to Showtime has gone through the roof," she tells me. "But it doesn't take courage to do this show -- it's a fabulous show. It's so beautifully photographed. Because of the subject matter, there's often gorgeous shading."
Despite the show's popularity, Gless says there are still obstacles. "I find it fascinating that the Academy [of Television Arts & Sciences] doesn't even acknowledge that we exist," she tells me. "I think that half of Hollywood is watching Queer as Folk, but apparently they are not willing to admit it."
She adds, "Half of the audience is straight women. It was made for the gay audience, but it's such good television, a phenomenon has occurred. My husband says it's because women like watching men make out, just like men like watching two women make out."
Gless just finished filming a segment of Judging Amy with former co-star Daly (it will be shown during February sweeps). "There's such a nice chemistry between us," says Gless. "Those six years we were on the air with Cagney & Lacey, no other woman won an Emmy [Daly won four].
"We got the awards because we had writers who could write for women," she says. "We had the best."
On the cold cold day of our lunch, Gless, who lives on Bloor Street, tells me she'd like to find more work in the Toronto area, "because I love living in this city." This from a native Californian. Will wonders never cease!