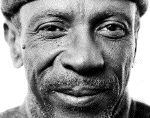 [Photo: Chris Bolin,
National Post]
Lou Gossett Jr. says he had a tough time getting work in Hollywood after he won an Oscar for his role in An Officer and a Gentleman. "I was hurt. I wanted to be treated like Harrison Ford."

[TORONTO, ON]


I hadn't realized that famous Hollywood actor and Oscar winner (for An Officer and a Gentleman) Lou Gossett Jr. was a singer until I saw him perform at Hugh's Room last Sunday night during the Richie Havens concert. Apparently, Gossett wrote a song with Havens called Handsome Johnny, and he performed it with gusto on Sunday night. "I got chills up there with Havens," he told me. "We're united, we're of like minds, on the same page. Our spirits have grown."

We're having lunch at Gossett's condo in the Yorkville area where he's staying while filming the movie Jasper, Texas with Jon Voight. Lunch -- angel hair pasta with seafood and spinach -- is being made for us by Gossett's Toronto caterers. A Thanksgiving duck is cooking in the oven, with sweet potatoes and apple soup (with smoked turkey) boiling on the stove. Gossett is having a group of his Canadian friends over for Thanksgiving dinner, including his co-star, Toronto actress Karen Robinson. Gossett calls her "one of the greatest actresses I've ever worked with."

Not yet accustomed to the changing Canadian seasons, Gossett, who now lives in California, is suffering from allergies. "Ultimately, I'm heading for the islands. It's not only because it's a fantasy lifestyle there," he tells me, "it's because it's the last place they would drop the bomb." His lineage is West Indian, American Indian (Seminole and Cherokee) and African.

"Originally, I wanted to be a doctor because many of the people I loved died too young -- my grandmother, my brother, my cousin. My dad died of alcoholism at the age of 53. I don't go to funerals any more," he says. "The last funeral I went to was my mother's [she was 59]. When people close to me die, I choose a picture of them when they looked their happiest, and I put it up on the wall for a while."

Gossett Jr. gives David Susskind the credit for discovering him, and says his darkest days were, surprisingly, after he won his Oscar. "I couldn't get any work after that," he says. "First it happened to Sidney Poitier after he married a white woman." Gossett says he believes the industry resented a black man winning the Oscar, saying that if Robert Downey Jr. was a black man he'd be finished in Hollywood. "It was my peers who gave me the Oscar, not the industry," he says. "After that Oscar, I started destroying myself with cocaine and partying. I thought, 'I'll show them,' but I was only destroying myself.

"I wasn't angry," he adds. "I was hurt. I wanted to be treated like Harrison Ford."

He tells me that what he went through in Hollywood "forced me to go on my own and put more relevant roles on the screen. I did what I wanted to do, I was my own boss." Gossett says he's happy he doesn't have to play the Hollywood game, "show up at certain functions and live a certain way."

Of his co-star Voight he says, "I see peace and acceptance in his eyes. We're gravitating to each other. I like that man a lot, I have the maximum respect for him. I see his heart."

More than 20 years ago, Gossett adopted a homeless child he saw on Good Morning America. "I got up at 3 a.m. and this little boy, who I had just taken to California [from St. Louis, Miss.] was hiding and eating. He was afraid someone was going to take the food from him." His adopted son is now a computer whiz. Gossett believes in giving back. "What you put out comes back," he says with conviction. "There's more to acting than sunglasses and limos."

Gossett, who has been single for nine years, says, "I'm lonesome, but I'm not lonely. I'm a loner, I'm my own best friend." About love, he says, "You can't go looking, it happens." Although he does add there are "candidates" -- "I have a lot of friends.

"I love to be in love," he concludes, "and it's a privilege to be hurt in love because at least you feel. Romance is a wonderful thing."

Lunch is coming to an end. As a parting remark, Gossett says, "I never let my ego get in the way. Who buys the tickets to the movies? I don't ever forget that -- that's the end result."