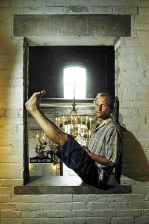 [Photo: Kevin Van Paassen,
National Post]

"I try every day to do two things that scare the s--t out of me. I take jumps from great heights." WOODY HARRELSON IN A SCENE FROM GO FURTHER: "I'm kind of bizarre."
Woody Harrelson is a friendly guy, a really friendly guy. When he walks into the lovely Balzac's Café, in the Distillery Historic District, you'd think he was a politician, the way he meets and greets everyone who comes his way. The only difference is that the actor is sincere. There's a man in a wheelchair in one corner of the room, and I make a bet with myself that Harrelson will find his way to him. He doesn't disappoint, and within a few minutes they're shaking hands.
You can't help but like Harrelson, who rose to fame in the 1980s on the television series Cheers. He followed that up with a slew of successful movies, including Indecent Proposal, Natural Born Killers, The People vs Larry Flynt, White Men Can't Jump and, more recently, Anger Management.
Harrelson is in town for two reasons -- his new documentary film, Go Further (about organic living), is being shown at the Toronto International Film Festival. And he's making his Toronto directorial debut with a production of Kenneth Lonergan's play This Is Our Youth, which premieres at the Berkeley Street Theatre on Sept. 18.
As he approaches me, I have to laugh. His casual shirt is half-tucked into his shorts, giving him the endearing look of a lost boy. And he's wearing a pair of bedroom slippers.
"You have a great look," I tell him.
"That's the first time I've been told that," he says, grinning, but becomes mortified a minute later when I raise the obvious question about the slippers. Evidently (and I find myself believing him), he was completely unaware they were bedroom attire.
"I knew they were kind of indoor shoes, but I didn't know they were bedroom slippers," he says, genuinely surprised. "Anyway, when I ride my bike, they work. I ride to work every day," he continues, "15 minutes downhill to get here, and then uphill, going home, I get a cardio."
His Southern accent is pronounced and he knows it. "It's tough to kick," he says.
Harrelson has had a colourful life, to say the least, and much of it unwittingly. Born in Texas in 1961, he was just seven years old when his father, Charles, was arrested on a murder rap. Harrelson Senior is still in a federal prison, convicted of killing a Texas judge. We don't get into that today, but it is an event in Harrelson's life that is said to have had a profound effect.
Now 42, Harrelson admits he had his own wild days, but has settled down in recent years.
He lives in Hawaii with his former assistant, Laura, and his two daughters, all of whom are with him in Toronto. He's drinking, from a jar, a mixture that strongly resembles mud. "Carrots, beets, celery, spinach, kale. I'm a real healthy guy," he tells me, and is aghast when I mention a rumour I've heard that he smokes cigars. "Even just smoking, and pot is against everything I stand for," he says, insisting that he's not into any of that any more. He likens the body to the plight of the world. "The lungs are like the rainforests under siege," he says.
He can see that he's losing me, so he tries a different tack. "I'm kind of bizarre," he admits.
"Here's another example," he says, starting again. "I've got to look at fuel and what I eat. Simple organic living doesn't have to be so complex. Ironically, most of this health consciousness came from being out of balance. The thing is, I go from extremes. I was very religious [he grew up a Presbyterian], and then I swung to a hedonistic lifestyle, dropping all of the beliefs that I had before. Then I started going towards the centre. I'm in the centre now. I want to stay balanced. I've lived on the edge."
Of course I can't resist asking him about the edgiest thing he's ever done.
"Ask George Wendt and the other guys from Cheers, they'll tell you," he says, laughing and rolling his eyes. Life is simpler nowadays. "I try every day to do two things that scare the s--t out of me. I take jumps from great heights."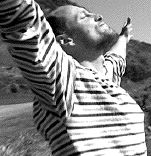 WOODY HARRELSON IN A SCENE FROM GO FURTHER: "I'm kind of bizarre."
As it turns out, he means this literally. "I jump 64 feet from a bridge where I live, and I've seen people with a lot of cojones stand on that bridge [afraid to jump into the bay below]."
"So your lifestyle in Hawaii is hedonistic?" I ask.
"No, no, on the contrary, L.A. was my hedonistic lifestyle."
His place in Hawaii is a fruit farm. "It's not fancy at all, two bedrooms. Our bedroom is smaller than this room," he says, referring to the tiny alcove we're huddled in. "However, there are other buildings on the property for staff. I live simply. My wife just created an outdoor kitchen. More space," he boasts.
Asked why he chooses to live this way, he shakes his head. "I don't know. I just keep living like a pauper. And then I go to my friends' houses and think, 'Holy s--t, I could live like this, the lap of luxury, the pool, the big rooms. Why do I keep living like a friggin' pauper?' "
I nod in understanding (though I don't mention my own pool).
Just then my cellphone rings. It's my son Luke and I'm late to pick him up. Harrelson looks concerned. "If I knew he'd have to wait, I wouldn't have let rehearsals go on so long," he says.
I hand him the phone and he chats for a while with Luke.
"What do you think of this as promotion for the movie?" he asks me as he hangs up. "Don't write this down. I just want your opinion. We show the movie on a big outdoor screen by the water and we ask everyone to bike down for it. Wouldn't that be a great image? All those bikes?"
It sounds a lot like another promotion Harrelson is involved in -- an outdoor yoga happening on Sunday morning on the U of T campus. "It's going to be the biggest yoga gathering of young people anywhere," he says excitedly. "We're trying to get into the Guinness Book of World Records. Wouldn't that be great, even if it's just for one year?"
Harrelson's enthusiasm for, well, just about everything, is contagious. As we say our goodbyes, it occurs to me that of all the celebrities I've interviewed, Woody Harrelson will go down as one of my favourites.
"You know, I'm really glad you made it big," I tell him.
He smiles warmly. "Tell Luke I hope to meet him someday," he says. The bizarre thing is he means it.