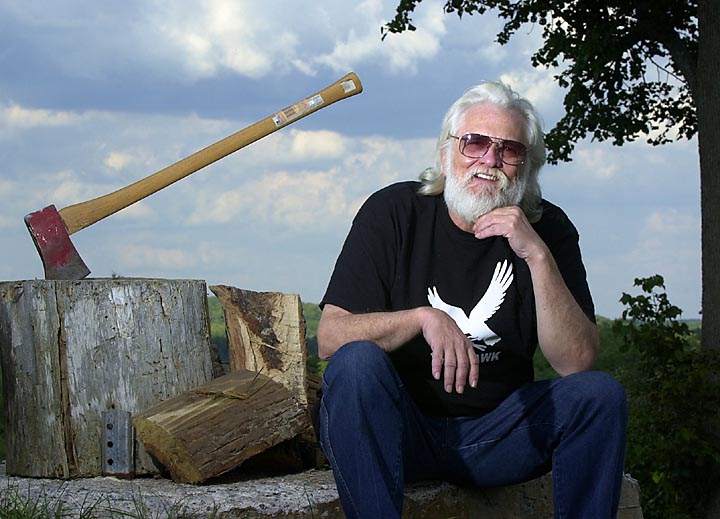 [Photo: Carlo Allegri, National Post]
The ailing iconic said this week, "I'm spiritual, I've always had the Big Rocker on my side, always, when I was down and needed help."

---
[STONEY LAKE, ON]
Ronnie Hawkins is in great spirits, and he's looking really good. It can't be easy being diagnosed with pancreatic cancer, but you'd never know it from spending time with him.
We are at Hawkstone, the beautiful property overlooking Stoney Lake, in the Kawarthas, a two-hour drive from Toronto, where Ronnie and his wife, Wanda, have lived for more than 30 years. Hawkins knows people are interested in his health, and he is happy to provide a medical update -- interspersed with jokes, much laughter and salty language. He had quadruple bypass surgery in April, and seemed to be making a good recovery. "I was just getting ready to rock, baby, and then this stuff hit. I was itchy, I started to tingle in places I haven't felt for a long time, and my urine turned almost black [from leaking bile ducts]." A call to his doctor and tests in July confirmed the worst: He had a cancerous tumour in his pancreas. In August, he underwent his second major surgery in four months. "And they had me up the next.. day after the operations. In the old days they made you lie there, and if you lied there for too long, they tagged your toe."
When I ask him whether he is receiving chemotherapy, radiation or other treatments, he shakes his head and says matter-of-factly, "Nothing. There's nothing they can do. They went in, and it's on a main artery, so they can't operate." Instead, he'll treat himself. "I'll just smoke some dope. I'm going to be signing some papers so that I can get medical marijuana. And I'm gonna blow another 30 pounds and then I'm gonna work out."
He is in no pain, he promises. "I'm taking more drugs than the Rolling Stones, so I ain't feeling too bad. With these doctors and all the pain stuff [medication], I never felt nothin'."
And he praises his physicians in classic Ronnie language. "We're living in the promised land. Jesus would have to break a heavy sweat to beat this team." His future, he says, "depends on how the tumour grows." He says this simply and without fear. There is an awkward pause, and the conversation turns to religion. "I'm spiritual, I've always had the Big Rocker on my side, always, when I was down and needed help. I'm First Baptist, but we First Baptists don't have that good a retirement plan," he says, joking as always. Then he adds, "I'm not afraid of dying, I'm not volunteering for f------ nothin' and I'm gonna fight, but when it's your time to go..."
There has been a massive outpouring of support and concern since Ronnie's health problems became public in August -- almost 50,000 e-mails and phone calls, he says. "And healers are calling me too," he adds solemnly, "but I'm going to go with the Swiss doctor's new remedy." There follows a joke involving copious amounts of oral sex that cannot be recorded here. It ends with the line, "And if you can survive that, cancer ain't gonna kill you." And with that he let's go with his signature belly laugh.
A private party at the Four Seasons was held for him recently, attended by former U.S. president Bill Clinton, music men Paul Anka and David Foster, comedian Whoopi Goldberg and Arkansas billionaire Don Tyson, among others. "They all laughed at my naughty act," he adds. "I introduced the president to my Toronto friends, and I said, 'Mr. President, these men have had as much trouble with women as you have.' One half-second later, the president said, 'I hope it didn't cost them as much.' " Hawkins, a former Arkansas boy, feels strongly that the former Arkansas governor was dealt with harshly for his involvement with Monica Lewinsky. "When people look back to this, it's going to be like the burning of the witches in Salem. It's not right, getting into people's sex lives. People are going to have sex. I've had it all by myself for years," he says, and laughs again. Of David Foster, who played keyboard for him, he says he "looks like he's doing pretty good for a side man."
Other famed musicians who got their start with Hawkins include Levon Helm and Robbi Robertson. He lets out his laugh. I ask him about a scar on his face. "A garter belt came loose, and nearly tore my head off," he complains... The true story is close, it's an old wound from a barroom brawl.
Hawkins is as open with his money problems as he is with his health. As we take a walk around his property -- he calls it Mortgage Manor -- he mentions that he and Wanda "are as broke as the Ten Commandments." I laugh, and he's on a roll: "If it cost a nickel to s---, I'd have to try to vomit," he says. Or how about: "My banker thinks I'm a communist I'm so far in the red." Yes, he's broke: "I'm just a redneck hillbilly from Arkansas who made $3-million and spent $5-million."
Which brings us to the Ronnie Hawkins Tribute at Massey Hall next Friday. "I don't know what's going to happen," he says. "I'm supposed to make a lot of money, but I don't know if you can make any money at Massey Hall. You have to fill that place just to break even."
Old friend Kris Kristofferson, as well as Amy Sky, Jeff Healy, Tom Cochrane and The Tragically Hip will be on hand to salute Hawkins. And who knows who else will show up.
Of his future, he has big plans. "I'm going to make a documentary like The Last Waltz [Martin Scorsese's 1978 film of the final concert by The Band] "with people like Bo Diddley and Lonnie Mack, a lot of the guys copied them," he says reflectively. "They're legends legends." He pauses then continues. "And I want to do a recording with some of the old timers, Robbie and Levon, David Clayton-Thomas, James Cotton." Another pause. "I ain't goin' easy, now that God's givin' me a chance to make some money."
Wanda comes in with the phone. "It's Mickey Jones," she tells her husband. "He just has to hear your voice." Jones is a drummer from Texas, who was with Bob Dylan and Kenny Rogers & The First Edition. "What d'ya mean, you hear I'm not doin' so good," Hawkins roars into the phone. "I only went into the hospital for a little penis reduction," and adds, "I'm goin' to try the Swiss Doctor's Remedy ..."
Hawkins is getting tired, so I quietly leave, with him still regaling Jones with his stories. Wanda walks with me to my car. "He's not in any pain," she says. "And I think we can all learn from him. He's a perfect example of how you should accept what God has given you, and take each day as a blessing. We have so many people praying for us, and we believe in prayer. We believe in miracles.