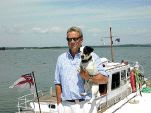 [Photo: Sharon Dunn,
National Post]

William Hoover III with his Jack Russell terrier, Digby.
MARTIN'S POINT, N.S. - I head for Wigmore Hall, in Martin's Point, just outside Chester, to see William Hoover III of Washington. Heir to the Hoover vacuum fortune, he has lived here for five years. Says an acquaintance, "He didn't have to be in Chester where the rich and famous are; he wanted privacy."
I'm a few days ahead of Town & Country magazine, who are also on their way to interview Mr. Hoover, whose estate is about to go on the market for $6.5-million, boasting a tennis court and a beautiful ocean view. Mr. Hoover has me for tea, and as I raise my hand for a toast, he says, "You can't have a toast without alcohol; it's bad luck." Why, you learn something new every day. Mr. Hoover runs to get the alcohol, but since it's only noon, I pass on the cheers.
About his property, he says, "I like working with this kind of project. It was a blank canvas when I bought it: So many trees, it was a solid barrier, you couldn't see the ocean."
He has transformed the property, while retaining its rugged charm, and I tour the house admiring his vast assortment of art and sculptures. Mr. Hoover, who is obviously a collector, also spends his time creating large metal sculptures and has a workshop two kilometres from his home in Martin's Point.
His first introduction to the East Coast of Canada, he tells me, was 20 years ago, when he was tuna fishing off Prince Edward Island. "My mother used to come here in the mid-1930s with her friend Gloria Grosvenor, granddaughter of Alexander Graham Bell, to Baddeck [Cape Breton], home of the Alexander Graham Bell museum."
Mr. Hoover hadn't been back until five years ago, when, he says, "I was taking a cruise with my mother and one of the stops that our yacht, The Seabourne Pride, made was in Baddeck. "My mother looked out the window and said, 'My god, there's Beinn Bhreagh [Gaelic for beautiful view], there's the place I used to stay [Mr. Bell's home in Baddeck].' They would take the train from Washington to Cape Breton [Sydney], from their boarding school, Holten Arms. She tried to encourage me to spend time here," he says. The Seabourne Pride also stopped in Halifax and, Mr. Hoover says, "When the boat came in to Halifax, I remember thinking it was like a little London: People were polite, they said please and thank you and made small talk before discussing business, all the things they don't say in America."
Mr. Hoover's famous grandfather, he tells me, was a friend of Henry Ford, who invented the first automobile. "Ford was always talking about the demise of the horse and my grandfather had a harness and saddle business. Anyway, he ended up buying the patent for the vacuum cleaner from a guy named Spangler, whose grandson is a friend of mine."
Before buying in Chester, Mr. Hoover, who had a ranch in Wyoming for 15 years, says, "I had a motorcycle crash in 1996 and almost had to have my leg amputated. I couldn't do the ranch scene any longer. I discovered Chester after reading about it in Esquire magazine, reading about the great life in Nova Scotia.
"I was disenchanted with the Hamptons, where I spent my youth [Long Island]; it was getting to be a hassle, with traffic making it a three-to-four hour drive from Manhattan. And here you find property for 20% of what you pay in the U.S.," he says.
Mr. Hoover says he spends his winters abroad and in Mexico, at Costa Careyes, "a private resort about two hours south of Puerto Vallarta." He adds, "It has 10-million dollar homes and polo; you'd love it, Sharon."
"I already do," I assure him. But Mr. Hoover still considers Chester his home, proving it to me by saying, "I came back here for Christmas last year." Christmas aside, boating, he tells me, is the main reason he loves Chester. "I have a gentleman's yacht," he says. I mention to Mr. Hoover, 50, who is divorced from actress Camilla Sparv, that I've heard he's a playboy type who has lots of parties. "Who told you that?" he laughs, "Although I did have one party last summer, an unveiling of 'Ecstasy,' a sculpture I made." And when his property sells, will he buy again in Chester?
"Probably an island, next year," he confides, admitting he has to stay, partly because, "I now have friends who've followed me here from New York and Europe."
Mr. Hoover picks up his Jack Russell terrier, Digby, and holds him for a photo by the gorgeous waterfront he's developed. It's the first time in my life that I can recall being envious of a dog.