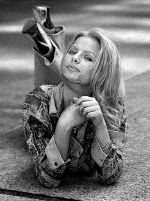 [Photo: Kevin Van Paassen,
National Post]

Tailor James calls her appearance in Playboy "a stepping stone."
I go to a local Chapters to pick up the June issue of Playboy, but I can't find one, not even in the "Men's Interests" section, so I ask a clerk, then cringe as he yells loudly to another employee, "Do we have any Playboys?"
All eyes turn to me, or at least that's how it feels.
Turns out they don't have the magazine, so I quietly tiptoe from the store, trying not to draw any more attention to myself.
My next stop is a Mac's Milk, where they keep Playboys behind the counter. Do you have the June issue, I ask the clerk.
He nods, then just stands there.
Can I have one?
He gives me a strange look as he rings up the mag, and I'm so uncomfortable with my purchase that I find myself explaining that I need it to prepare for an interview with Miss June.
He shrugs. Obviously, he couldn't care less. So what's my problem, for heaven's sake?
All of which is to explain that I am not at all like the June centrefold, a healthy-looking young woman named Tailor James from Caledon, Ont. She is totally at ease with the idea of being totally naked in the magazine.
"I'm not embarrassed at all," she tells me when we talk. "I even showed my dad, and he's very supportive." Dad, who works for the Board of Education, is featured in one of the Playboy shots, fully clothed, thank God.
James says her journey to the centrefold began when she went to Chicago for a test shoot for Playboy, which resulted in her becoming Cybergirl of the Month at www.playboy.com. Then she went to Los Angeles for the magazine shoot and met the 77-year-old founder of the magazine, Hugh Hefner -- who has seven girlfriends, according to James.
"I stay at the mansion in Hombly Hills, or the guest house next door, when I go to L.A."
When I ask if Hef is sexy, she says, diplomatically, that "his personality is very sexy."
James, who dates her high-school sweetheart and believes in "marriage for life," tells me that Hef's "main" girlfriend, Holly, shares his bedroom. The other six have their own bedrooms.
And what does Holly do when one of the other girls comes to see Hef?
"I guess they share," she says, every bit as shocked as I am.
Having explored the mandatory Hefner angle, I now change my approach. Journalists interviewing Playmates tend to ask the typical 36-24-36 types of question. I'm determined not to do the same. I ask James whether she feels America should have pursued a war in Iraq.
"Honestly, I really don't agree with it," she tells me. "Innocent lives were lost. With all their intelligence and high tech, they could have gone a different route to deal with the situation. But", she adds, "I really don't blame the Americans at all, especially the soldiers who were just doing their jobs."
And she believes there was a downside to all those journalists reporting their experiences with the U.S. troops. The result is that the war was glamorized. "I don't think the media should have been there."
She also has strong views about SARS, and the overreaction to it at the expense of the Chinese community. "I really think they're blowing the whole thing out of proportion. I'm not worried at all," she insists (and indeed proved it by dining in Chinatown last week).
Clearly, James is a thoughtful woman, so I can't help asking her why women still want to be Playboy centrefolds.
"We're using it as a stepping stone," she says simply. "Besides, it's very tastefully done if you compare it to other magazines. I would never, never do Penthouse, no matter how much they paid me." (Speaking of which, Miss June tells me she was paid US$25,000 to do the spread, and receives $1,500 a day for promotional appearances.)
She adds, "I think there are a lot of feminists who don't agree with it, but women fought for their rights for years and this is my right. A lot of women have insecurities, but I was brought up confident and I believe in myself. Maybe some women are just jealous."
Yikes. That would seem like a good time to stop.