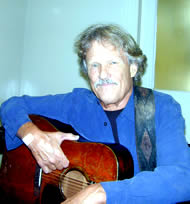 [Photo: Sharon Dunn]

Kris Kristofferson and his 1966 Martin guitar.
It was 25 (or so) years ago and I had just landed a job at a television station in my hometown of Sydney, Nova Scotia, making $125 a week. How lucky can you get? I thought. I was 20 years old with a degree from Dalhousie University, and my foot in the door of the career I'd always wanted. My idol at the time was Kris Kristofferson, legendary songwriter (Me & Bobby McGee), and seventies sex symbol. And he was coming to Nova Scotia with his then wife, singer Rita Coolidge, who was just off Joe Cocker's Mad Dogs & Englishmen tour.
I was desperate to interview Kristofferson, but my boss wouldn't spring for the expenses. Which is how I found myself with my hippie chick girlfriend, in our tie-dyed long skirts, hitchhiking to the outdoor concert in Wolfville, a six-hour drive away. Once there, we could barely afford the cost of the cheapest tickets, only to find out that Kristofferson wasn't doing any interviews. Unfazed, I stood at a fence screaming at him as he walked by, pleading for an interview, "for a little Cape Breton television station." He caved, and I conducted a very short starry-eyed interview during which I was totally intimidated and barely able to speak. When he invited us to the after party, I told him that we were "too busy." We hitchhiked back to Halifax and that girlfriend hasn't spoken to me since. So we weren't busy -- I was just too overwhelmed by it all. And here it is some 25 years later, and I'm trying again to see Kris Kristofferson, in town for the Ronnie Hawkins tribute last Friday night, and once again "he's not giving any interviews."
"It's OK," I hear Kristofferson tell the organizers, "she's with me." So here he is 25 years later, helping me all over again.
This guy still has it: Except for a few more lines on his face, he hasn't changed a bit, still in great shape, same gorgeous blue eyes and the perfect gentleman. "I'm sorry about all this," he apologizes as we walk to his dressing room at Massey Hall, a concert venue he loves. "The acoustics and the feelings I have about this place, ..." he reminisces. He gets stopped by a fan. "Did you see what happened?" Kristofferson asks me as we continue walking. "That guy just said, 'You're Nick Nolte, can I have your autograph? I love all your movies.'"
"What did you say?" I ask him.
"I said, 'Thank you' and gave him an autograph," he laughs.
Nick Nolte should be so lucky, I point out, remembering that Nolte looked pretty rough on his recent visit to Toronto. "I just lost a movie role to him," says Kristofferson candidly.
Wearing jeans and a T, Kristofferson is also sporting the scruffiest, most well-worn boots I've ever seen. "I like things that are familiar," he tells me. "Familiar is more comfortable." When I ask how old the boots are, he says, "I can't remember, I can barely remember how old I am." (He's 66.) The Texas-born composer stoops down and pulls his guitar from its case, a Martin that he's had since 1966. "I bought this second-hand from an ad in the paper," he tells me. "I think the guy was runnin' from the law. I paid $150 for it." I inspect the aged guitar, engraved from one end to the other with hundreds of autographs. "The first to sign was Johnny Cash," he tells me, "and then Bob Dylan." He points out Gordon Lightfoot's scrawl, Roger Miller's and many more.
Kristofferson is comfortable with his stage in life. He is the father of eight children, the five youngest are at the moment with his current and third wife, Lisa Meyers, and range in age from 8 to 18. The family lives in Hawaii where Kristofferson says he spends his days dropping off and picking up his kids from school. "Staying close to my family is the important thing to me," he says.
"The older I get, the more my wife and kids mean to me. It takes a lot to get me out of Hawaii these days," he continues. "If it wasn't for someone I truly loved [Ronnie Hawkins], I wouldn't have made this trip." Of Hawkins, he says, "he's a big beautiful guy, like Mohammed Ali."
Kristofferson looks emotional, but he doesn't break down as he did earlier in the day when Hawkins received his star on The Walk of Fame. "I don't want to pull out the violins and start crying," he says about the tribute to Hawkins, who has been diagnosed with inoperable pancreatic cancer.
Kristofferson has depth and versatility, which probably explains his great success. He went from being a Golden Gloves Boxer to a Rhodes Scholar to a helicopter pilot and Captain in the air force (his Dad was a military man). His military training came in handy in his songwriting career when he landed his helicopter in Johnny Cash's yard to give him some tapes, resulting in Cash's recording of Sunday Morning Coming Down (1970's song of the year). Kristofferson says, Songwriting, Kristofferson says, "is the closest thing to who I really am, not acting or performing. I'm a writer."
When I ask if he has any regrets in life, he surprises me with his response. "I should have been nicer to my first, old manager [Bert Block] when he was dying." He thinks for a moment before adding in his own defence, "but my second marriage [to Coolidge] was falling apart."
"His [Block's] widow thought I did a good job," he adds, "but I wish in my heart." He ends his thoughts with, "I have to add, I'm so grateful for where I've ended up I'd be afraid to change a thing."
When I get up to leave, Kristofferson asks me to send him a copy of the story. I mention e-mail and he says, "I don't know how to use that, I'm not into technology, just put it in the mail." He gives me his address. I show him the photo I've snapped on my digital camera, and he says innocently, "That's amazing, it's developing before our very eyes." This old-fashioned guy is comfortable with old boots, old guitars, even familiar, old reporters.
I walk away, once again with my heart beating wildly, after all these years, and once again missing the after party -- too much excitement for one night, again. I guess Kris isn't the only one stuck in the 70s.
At least this time I don't have to hitchhike home.