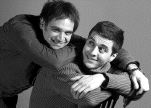 [Photo: Peter Redman,
National Post]

Including its run in Montreal, Andreas Apergis, left, and Joseph Gallaccio have performed Mambo Italiano 110 times.
Mambo Italiano, the smash comedy set in Montreal about a gay Italian man who comes out to his parents, has opened at Toronto's Elgin Theatre. I wanted to talk to the male leads, Andreas Apergis (Angelo) and Joseph Gallaccio (his stage boyfriend, Nino), about just how difficult it is to play a gay guy.
"Are you gay?" I ask Gallaccio. (I had heard that one of the male leads was gay and one was not, so I was trying to establish which one was and which one wasn't right off the bat). He was clearly put off.
"I reserve the right to a 'no comment' to that question," he sputtered. Apergis echoed his co-lead's sentiment.
Surprised at their reaction (the show's playwright Steve Galluccio is openly gay), I asked them why they wouldn't answer my simple question. Gallaccio had an interesting response: "Quite frankly, I've had that question put forth to me from members of the audience, mostly from straight Italian men who approach me once their girlfriends or wives have approached me." When women ask the question, he said, "they want to know if I was gay, so that they could try to fix me -- you know 'straighten the boy out.' I felt somewhat pursued."
But the Italian men who ask have a different reason: "Because I'm Italian, the big question was, 'What's it like, what was the kiss [in the show] like. I would say, 'Which kiss?' because I also kiss a woman on the stage."
The answer? There's no difference at all, he said. "I'm an actor doing a show. It's a job. There are certain challenges to any role."
Perhaps more relevant is that the playwright and the two stars come from traditional Mediterranean backgrounds (playwright Galluccio and Gallaccio are of Italian descent and Apergis is a Greek Canadian). What on earth did their parents make of their latest roles?
"My very Italian parents, when they came to see the show for the first time, were warned," says Gallaccio. "But they came along with two couples of their generation. By intermission the women were enjoying themselves, but the men were very taken aback. The men looked at my father and said, 'Ricardo, what is Joe doing?' And my father said, 'He's an actor, he's pretending. If he was playing a murderer that doesn't mean he is a murderer.' "
I continued to press them on my original question. Why won't they just tell me if they're gay? What's the big secret? "We want to leave some mystery. It's fun," said Apergis. "Hypothetically, it's no more difficult for a straight man to play a gay guy than it is to play Hamlet, for example. The craft can humble you at any point of the production." In any event, he observed, "The play's values are a lot deeper than gay values -- like not being afraid to be who you are and claiming your life."
Gallaccio agreed. "Although it would perhaps be of value for a gay man to play a gay role, the greater value is to understand where these people come from. And their fear to come out and be ostracized."
Both men say that the immigrant experience is very much imprinted on their psyches. "When I came out of the closet and said that I wanted to be an actor, I think my parents wished I had said I was gay," says Apergis. "As immigrants, they had a dream for their children. They wanted us to be more than them -- a doctor, or lawyer. A sense of reciprocity is big within our culture."
Having done 110 performances of Mambo Italiano (it was held over several times in Montreal), Andreas says the interesting part of the show is the choices the gay characters make as a result of pressure from family.
If your brother was gay and wanted to tell your parents, what would you advise him? I asked Apergis.
"If he really wanted to do it, I would tell him to go ahead, but it's such a big taboo in our culture. You cannot live as an outed gay in Montreal" if you live within a traditional community. Gallaccio agreed. "I don't think you could live as an outed Italian in Toronto either," he said. "Italians are the same everywhere. It's an old-world mentality, but I don't judge it."
So the interview is winding down and I still have no idea which of these men, if either, is gay. All of which suggests that there is a thick line between acting and real life.
"As an Italian, I get asked to audition for Mafia roles," said Gallaccio during our discussion of stereotypes and appearances, "but when I arrive and don't even look the part, I don't get those roles. But I could do them."
"Why do we need to label anyway," said Apergis. "Maybe we should ask ourselves that -- why does it matter whether or not we're gay?" Good point. And although I left the interview still wondering, it was refreshing to have these two men tell me point blank their sexual choices are none of my business.