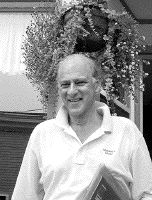 [Photo: Sharon Dunn,
National Post]

Sir Christopher Ondaatje's book about Hemingway and Africa is to be released in the fall.
CHESTER - It has been a year since I've seen Christopher Ondaatje and so much has happened. To him, that is. He's been knighted, has had hip surgery and is preparing for the release of his latest book, Hemingway in Africa: The Last Safari. I see that the ageless adventurer looks good, tanned and relaxed, as I walk in to meet him at his favourite local café, Julian's, in Chester. The newly knighted Sir Christopher spends the summer here on his gorgeous island property, just outside Chester Harbour; he spends his winters in England.
"It was quite a shock, really," he says about the honour from the Queen. "I didn't know it was coming."
Ondaatje received a Commander of the Order of the British Empire in June, 2000, and tells me, "Usually, you don't get any other honours for at least five years after that."
That having been said, it seems to me that it would be difficult to deny a man whose philanthropy is well-known on either side of the pond.
In Canada, the Royal Ontario Museum, the Art Gallery of Nova Scotia and the Chester Playhouse have all benefited.
In Britain, the Royal Geographical Society and The Ondaatje Foundation to benefit arts and education have received generous donations totalling many millions of dollars.
I mean, really, why would they not twice honour such a man?
On the topic of his new book, which hits the shelves on Oct. 1, Ondaatje is enthusiastic.
"I've been writing it for four years. The first book that Hemingway ever reviewed was Batouala, by Rene Maran (Toronto Star, 1921)," he informs me.
I know that a lesson on Hemingway is forthcoming, and there's no stopping him.
"When you read that book, it's like reading Hemingway. Basically, it is a simple, truthful statement," Ondaatje says.
"Here's a guy I respect so much as a literary person. I try to emulate his efforts to write the simple statement, and it's a hell of a lot of hard work to put a sentence into a simple statement.
"For me," Ondaatje says, "Hemingway's book The Snows of Kilimanjaro has been the model and formula for everything I have written. He was arguing with his alter ego throughout this book. I delve into the personal inspiration behind the story.
"Start a new paragraph," Ondaatje orders. I'm unfazed by his demand since, during our interview last year, Ondaatje actually started writing in my notepad. I can tell he trusts me more this year. I pretend to start a new paragraph.
"Hemingway, the man, wanted to be a hero, he was always looking out for his image. I love him and I abhor him," Ondaatje continues. "He was a man who sacrificed everything, except his art."
On Hemingway's colourful personal life, he says, "His fourth, and final, wife, Mary, stopped the publishing of the book True At First Light because it would have shown her and Hemingway in a bad light [it was published posthumously]."
And third wife, Martha Gellhorn, was "very independent and promiscuous. Hemingway accused her of sleeping with the whole Polish army. He said sleeping with Martha was like coming into Grand Central Station."
Ondaatje is quick to point out, "I don't identify with Hemingway, I'm not the same person, not at all. That's not to say that I wouldn't take my clothes off and jump in the river, because I would.
"But I'm more of an anthropologist than an explorer. I understand risk, and risk is like an aphrodisiac to me. But Hemingway pushed himself for the experience of the story.
"Draw a line here," Ondaatje demands.
"Excuse me?" I ask.
"Draw a line," he says.
I pretend to draw a line.
"I got the closest to Hemingway, not baiting leopards or carousing in a bar or going on some lion hunt or big-game fishing," Ondaatje says.
"I got closest in the morning waiting for the day to begin, with the sun casting long yellow shafts of light from the Acacias, listening to the shriek of the Hadad Ibis and the melodic tenor of the African Bou Bou, smelling the wood smoke and waiting for my first cup of coffee. I understand Hemingway, Sharon."
Ondaatje is utterly mesmerizing.
He tells me, "Hemingway said he would wake up in the morning, and be homesick for Africa, and he hadn't even left it.
"I feel the same way about Africa, and about Chester. They both have the same magnetism."