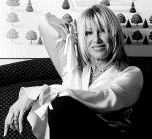 [Photo: Chris Bolin,
National Post]

Suzanne Somers has sold four million copies of her Somersize series. "Women say that she's changed their lives with her books," her husband says.
Suzanne Somers is already fashionably late for lunch when her book rep arrives and announces, "There will be three at your table."
"Three?" I ask. "Who's the third?"
"Her husband, of course," says the rep. "He goes with her everywhere." I raise my eyebrows. "She's the talent," the rep says, defensively, "and he helps her ... achieve her goals." In other words, I think, he's running the show. Somers' husband is one Alan Hamel, former Toronto boy, former host of ancient CBC show Razzle Dazzle and long-time partner of Suzanne Somers (34 years).
Earlier in the week, when a friend heard I was meeting Somers, she complained, "That husband of hers ruined her career with Three's Company [the long-running Seventies sitcom on ABC]. I've never liked Alan Thicke anyway." OK, so she was wrong about the name, but Hamel does still get blamed for Somers' firing from Three's Company.
Suzanne and Alan finally arrive and saunter over to meet me in their laid-back California way. "I don't want you two to sit together," I announce, afraid that Hamel will control the conversation. "Good," says Suzanne as she jumps over the arm of a couch and invites me to join her. Hamel casually takes a seat across from me.
"Alan is a visionary," says Suzanne admiringly when I question their togetherness. "He sees the big picture. People think that he's the driven one, but frankly I am. But he's the one who makes it happen, he taught me about business."
When I mention that Hamel is still blamed for disrupting Three's Company, Suzanne jumps to his defence. "It wasn't Alan, it was me," she insists. "All I wanted was to be paid equal to men on other series, like Alan Alda and Carroll O'Connor, but I struck out because they [ABC] wanted to make an example, they didn't want women to be 'uppity.' Since then I've done a lot of things so that I wouldn't be beholden to anyone."
She gets unwavering support in this from her husband. "After Three's Company I wanted to sing, so Alan planned a career for me, even before he knew I could sing, she laughs. Somers went on to win Las Vegas female entertainer of the year in 1987. (Frank Sinatra took the male honour.)
Her career is varied, to say the least -- acting, singing, best-selling author (of six books), master salesman (Thighmaster and cosmetics), motivational speaker, and now her own line of food available on www.suzannesomers.com. How does she do it?
"You have to do the work," she tells me. "My father always told me when I was growing up, 'You're nothin'.' When someone tells you you're nothin', you either crumble or you say, 'I'll show you.' "
Somers is blunt, honest and warm, and, don't kid yourself, very, very, smart and an obvious risk taker.
She's in town to promote her latest book, Suzanne Somers' Fast & Easy, which discusses losing weight the "Somersize way." (Remember, these people are master marketers.) For the record, Somersize is a diet, or "a way of life," as Hamel puts it, that includes fats and proteins, but no sugars. Keeping that in mind, I note what Somers orders for lunch: minestrone soup and a watercress salad. I order chicken curry. "Good, I can have a bite," she says, pointing out that she's not having the dish I ordered, "because there are too many sugars, in the rice, the mango chutney and the yogourt." Still, her choice of lunch surprises me. Where are the fats and proteins? "I don't want to chew meat while I'm talking," she says, but then she leans over and cuts off half of her husband's steak. The perfect meal, she says, is her husband's lunch: tomato and bocconcini salad, and a generous portion of steak but no bread, and no potatoes. Well, almost no bread. Hamel is chewing on a piece, and Somers says they are relaxed about eating a bit of the forbidden foods now and then.
The relationship between the couple is easy and comfortable. I like Suzanne, she's a dynamo, but much to my surprise, I like Alan too. He's comfortable taking a back seat to his charismatic wife (I know more than one man who could never assume that role).
I ask about their success as a couple. "It's the killer sex," Hamel quips.
"Just put down that I'm no part of any of his answers," replies Somers.
"What are the worst foods?" I ask.
"White flour, white rice, yams, sweet potatoes," Somers says quickly, "because of the sugars. They create hormonal imbalance that causes weight gain around your waist.
"Parents are doing their children such a disservice by not feeding them properly. It's time to take responsibility. If we're getting sick at our age, imagine what's going to happen to our kids."
"She can't walk five feet without some woman throwing her arms around her," says Hamel proudly. "Women say that she's changed their lives with her books." She's sold four million copies of her Somersize series.
I ask her opinion of a vegetarian diet. "It doesn't give you fuel or energy."
"Did you ever see a vegetarian that looked healthy?" Hamel offers. "We need meat."
Somers raves about her sugar alternative called SomerSweet, a sweetener that "tastes like sugar, bakes like sugar and has no aftertaste.
"Go to the room and get her some of the chocolate," Somers instructs her husband. Hamel jumps up, happy to oblige. I really am getting to like this guy.
When her husband is away, I ask Somers about her breast cancer, diagnosed 2 1/2 years ago, and the unorthodox treatments she is using. Somers says, "I had to think outside the box. I'm not advising that other women do it, but I believe in it. Chemo is against everything I believe in. It kills healthy cells as well as bad ones. My whole program is about building healthy cells. What they [the doctors] were offering me [a five-year program of tamoxifen oral chemo] was destroying all my good cells and bad cells. The doctors who recommended chemo are well meaning," she says, "but women need to be proactive about their health." Somers is using an all-natural alternative cancer drug called Iscador from Switzerland. "It's been used in Europe to treat cancer since 1920, with the same success rate [as chemo]," she says.
Asked about the recent reports of her liposuction, Somers says she had the procedure done on her breasts after the cancer "to even them out. Every woman wants to look good when she takes her clothes off," she says, adding, "I had to defend my program, so I went public." She says that there was no work done on her thighs, or any other part of her body during the procedure. I wonder about her diet and breast cancer. She pooh-poohs my suggestion of a possible link, telling me that her sister also had breast cancer (it is known to run in families), and since I also know vegetarians with breast cancer, I don't push the point.
Somers jumps up and runs off to meet our photographer in the next room for a pic. "You stay with Sharon," she tells her husband. Curious, I ask Hamel about his upbringing in Toronto. "I was raised on Queen and Spadina," he says. "My father worked at Tip Top Tailors on Front Street as a pocket maker, and my mother had a rooming house where boarders stayed for years. There were 17 people in the family," he remembers. "Eight Chinese brothers (who lived in one room), a Presbyterian minister, a Trinidadian artist, a Dutch engineer, a Frenchwoman -- I think she hooked on the side -- and a blind alcoholic trumpet player."
Hamel and Somers now live on the beach in Malibu, one of the most expensive properties in the world, with a second home in exclusive Palm Springs. Somers is the dynamo, there's no doubt about that, but Hamel is her rock. This is a marriage, a partnership, a business deal that appears to be working. At the very least, everyone is getting rich. And besides, they both look pretty healthy. Why it's enough to make anyone start eating steak again. I'll have mine medium rare.