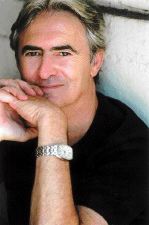 Comedian David Steinberg is a hot commodity in Hollywood, where he is in demand as a director on a variety of hit TV comedies.
Many years ago on The Tonight Show with Johnny Carson, David Steinberg did a routine I've never forgotten.
It was the funniest one I've ever seen.
Steinberg, who said he had a fear of elevators, told of flying all the way from L.A. to New York to attend a meeting on the 12th floor of a decrepit building.
Afraid of the tiny elevator, Steinberg takes the stairs all the way up, only to find the door locked.
Walking back down to the lobby, he gets on the elevator with another man so he won't be alone. His worst fears are realized when the elevator gets stuck.
When Steinberg begins to scream, the man calms him down and tells him to "take it easy."
The elevator begins to move again and a rattled Steinberg gets off at the eighth floor, the other guy's destination, rather than go on alone.
He walks to the bottom once more, but when he sees kids with balloons getting on the elevator, and even a rabbi in a wheelchair, he decides he'll risk it.
He dives in with the rabbi, figuring he'll be safe before realizing that now if he gets stuck, he'll have to prove something to the rabbi and do the rescue bit, shinnying out through the top and swinging through the elevator shaft like Rambo.
The routine struck me as really funny, maybe because I have an elevator phobia myself.
I shouldn't admit this, but a number of years ago I went to see a lawyer on the 62nd floor of First Canadian Place in downtown Toronto.
Once on the elevator, I almost had a stroke when it inexplicably stopped about halfway up.
When I finally made it to the 62nd floor, there were two things I knew for sure. One, I was never coming up here again, and two, I wasn't going back down on the elevator. I edged close to the stairs as I said goodbye to the lawyer, making some lame excuse about why I wouldn't be needing his services. He pressed the elevator button.
"I think I'll walk down," I said casually.
"Walk?" he replied. "From the 62nd floor? Are you crazy?" And with that, I leaped into the stairwell and began my descent.
When I finally stumbled on to the sidewalk some 40 minutes later, I was greeted by police and firemen.
"Lady," said one fireman, "you've been setting off alarms all the way down. What were you doing?" "I'm afraid of elevators," I whimpered. Lucky for me, they took it well.
And now I was about to meet someone who also is genuinely afraid of elevators.
You can imagine my surprise when David Steinberg emerged from, of all places, the elevator at The Windsor Arms hotel. I was a bit disappointed, to say the least.
"I loved that elevator story you told on Johnny Carson," I tell him, assuming now that he just made it up.
"Do you remember that?" he asks me, dumbfounded. "This is the first time anyone's mentioned that routine. Carson says that it was his favourite piece that didn't work."
"But it did work," I insist. "I've remembered it all these years."
"And all of it is true," says Steinberg, "even the rabbi."
"What about the part where you said you were afraid of elevators?" I ask.
Steinberg insists that he does have a fear of elevators even though I've just seen him get out of one. "I always know I'm safe here [at the Windsor Arms] because at least they'll come and get me out.
"You can tell when it's a real story," he says. "You can't get something from a friend. You want people to identify with it, and it's got to be something that's in everyone's thoughts, but it's never said."
I certainly identified with it, I tell him.
The fact that I've remembered the routine all these years has Steinberg all excited. "Peter LaSalle [former executive producer of The Tonight Show] insisted that the routine didn't work. As a matter of fact, do you mind giving me your phone number? I'd like to call and put LaSalle on the line. Otherwise he won't believe that anyone actually liked that skit."
Carson, Steinberg remembers, thought the story was taking too long --"he didn't get into it at all."
Steinberg still sees a lot of the former king of late-night television. "He remembers lines of mine I don't remember."
Steinberg himself looks so good I ask him if he's had a facelift.
"Nothing done," he insists, "except one thing in 1978 -- I had my bags [under his eyes] removed. I've enjoyed myself, that's what shows on me. I've enjoyed every part of my life -- stand-up, Second City."
Steinberg appeared on The Tonight Show an amazing 150 times (second only to Bob Hope).
"Back then, they were interested in me hosting full-time, but Carson confided to me that he intended to stay on another 10 years."
Steinberg was even on the show the week Johnny retired. "I never thought of it as a career, but that's exactly what hosting Carson turned out to be."
Steinberg's also made a name for himself directing episodes of Seinfeld, Friends, Mad About You and, most recently, the wildly popular television series Curb Your Enthusiasm, for which he's nominated for a Director's Guild Award.
At this stage of his life, Steinberg says, "I enjoy the fame -- whatever faded celebrity I have left."
He is engaged to be married to Robyn Todd, who wrote the well publicized book How To Survive Your Boyfriend's Divorce.
Steinberg still visits his hometown of Winnipeg.
The last time he was there, he says, his friends and family registered him in the hotel under the name "Terry Cloth."
"Staff were calling and saying, 'Mr. Cloth, do you need anything? Mr. Cloth, there's a call. They didn't get it," he laughs.
The interview over, Steinberg bravely steps into the elevator once again to go back to his room. "Did you know that [composer] David Foster will not even get on an elevator?" he whispers to me as the door shuts.