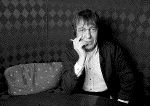 [Photo: Chris Bolin,
National Post]
"Before [my wife], I could never say 'I love you' to anyone - that's from my working-class background, you know. Men don't cry."

[TORONTO, ON]


'A vodka tonic on ice," Bill Wyman tells the waiter. I'm having lunch with the former Rolling Stones bass player. "You remind me of someone," he tells me right off the top. "I just can't put my finger on who." Wyman orders a smoked salmon appetizer. "I hope it's Scandinavian salmon," he says, "it's the best." I mention to him that a number of Stones fans have said he did the right thing leaving the band 10 years ago (instead of hanging on forever).

"A lot of people have said that," he replies, "but [the Stones] are getting good reviews too -- maybe they're right as well.

"I've been happier since I left," Wyman says. "I loved my 32 years with the band, but now I have freedom to do what I want." Since leaving the Stones, Wyman has formed a blues band called Bill Wyman's Rhythm Kings, and has just written his fourth book, Rolling with the Stones. An earlier book, Bill Wyman's Blues Odyssey, won the Blues Foundation's 2002 Keepin' the Blues Alive Award for Literature. Wyman is in Toronto to promote Rolling with the Stones, a virtual encyclopedia on the history of the band.

Wyman, a collector since he was a child, saved every piece of memorabilia from the old days. "I'm the only musician from the '60s who saved the clippings," Wyman says. He says he even saved memorabilia from other bands, including rare footage of the Beatles. "I gave the Beatles the tape of their first show in America. It was in Washington, filmed in black and white. They had never seen it before. Paul McCartney cried when I first showed it to him."

Unlike other books on bands, says Wyman, "I didn't have to go to fans for my material -- 95 % of the book is from my own collection."

The book took an intense six or seven months to put together, he says. "There was no stopping me, it was a labour of love. I never do anything I don't like to do now. When I was in the band, I had to be more diplomatic."

The book has more than 3,000 photos and illustrations. "I actually have 40,000 illustrations," he says, "but we couldn't use them all."

Wyman credits co-author Richard Havers for helping him sort through the material. "I couldn't have done it on my own."

Still, when I ask Wyman to name his favourite collectible, he asks, "Does it have to be from the Stones?" He then confides that it's a 17th-century book made by a Swedish scientist in the 1600s. "This guy went around the world collecting butterflies and moths and then painted them," says Wyman in awe. "I only paid 100 pounds for it, but I was offered 800 pounds." Amazingly, Wyman seems more impressed with this than with his Stones memorabilia, some of which would be a lot more valuable than the butterfly book.

"Who is your favourite Stone?" I ask.

"Charlie Watts," he answers without skipping a beat. "We were the first at everything," he tells me, "the first married, first with children, the most reliable and stable. We were the straightest rhythm section in rock 'n' roll." On the subject of drugs he surprises me. "I've never touched opium, LSD, cocaine."

"Oh come on," I say in disbelief.

"Honestly," he tells me. "I knew I'd probably like it too much, so I stayed away." He tells me that Watts stayed away from the stuff too. "But often I'd be the only one at the party not doing [drugs]," he says. "People didn't like it that I wasn't taking part. It's like peer pressure, people trying to suck you into something that you don't want to do."

He has smoked pot, he says, but adds that his true vice is cigarettes. "I've been smoking since I was 17," he says, "smoking 48 years."

"Have you tried to give it up?"

"Every 20 minutes," he tells me. "Other than that, I only drink spirits [vodka] and wine at dinner." He loves his smoked salmon appetizer. "Scandinavian," he says. "It's bugging me. I wish I could think of who you look like."

Wyman, 66, tells me that since leaving the Stones, he has married again and has three young daughters: Jessica, 6, Kate, 8, and Matilda,4. "My wife, Suzanne, is fantastic," he tells me. "She never looks at the negative side and she taught me to show my emotions. Before her, I could never say 'I love you' to anyone -- that's from my working-class background, you know. Men don't cry."

Wyman also has a son, "from the 60s -- he was eight months old when I joined the Stones." Stephen, who just turned 40, runs his famous Dad's Web site.

Wyman, who still lives in his birthplace, London, England, is blunt when he tells me he is not a fan of the United States. "I've never had the desire to live in America. I've never liked the lifestyle -- it's too wild and speedy for me. Most people are happy being where their roots are, and my roots are London."

"Are you a monarchist?" I ask.

Wyman seems surprised by the question. "Yeah, I guess I am. I knew Princess Di. She used to bring her sons to my restaurant [Sticky Fingers]. She knew that we would never call the press, she was safe there. I knew Dodi Fayed as well. He was so sweet, quiet and shy."

Wyman says the restaurant is going strong and has three times been voted top spot for the best burger in London. I decide now's not the time to bring up the subject of mad cow disease.

Wyman says his grandmother, who raised him during the war, was the most important influence on his life. "My grandma taught me everything. We were very poor, but ... she's the one who got me into collecting things. I was enlisted in the air force when she died, and I didn't go through the mourning thing -- it got suppressed.

"And when my dad died [in 1990], I was on tour with the Stones in Japan. Every show brought in 54,000 fans and we were in the third show of 10, so I waited until the tour was over, and then I came home for the funeral." Wyman says he went into therapy in 1992 to help him express his feelings. "You don't realize how much gets bottled up," he says.

I ask Wyman if he gets along with his former band members. "What do you mean?" he says, miffed by the question. "Of course we get along. They're my mates. I see them a lot, except for Keith [Richards] since he lives in America [Connecticut]. They're my family."

"I know who you look like," Wyman says triumphantly, "you look like Wendy." Some exotic young thing from his past, I hope.

"Doesn't she look like Wendy?" he yells to his book co-author, Richard Havers, who is sitting with publicity people at the next table.

"Who's Wendy?" I want to know.

"She's my cook," Wyman says.

"Your cook?" I complain. "I look like your cook."

"She's great," says Wyman, catching my disappointment.

"How old is she?"

"21," says Richard.

"29," says one of the publicity guys, laughing.

"In her thirties," says Wyman, edging closer to what I'm sure is the truth. I stop him there.

Wyman, who is thrilled with his age and stage in life, sums things up this way: "You've got to be in control, you can't leave anything to chance," he says. "Whatever you do, you must always hand in the 'finished' material. If you don't, 'they' f--- it up. Finish this line, Sharon," he tells me, "If you want it done properly..."